by Thomas O. Robbins '04In his famous work La España Invisible, Azorín writes about the richness of Spain in all aspects of its composition from history to geography to culture. He emphasizes that there is a spiritual atmosphere. The students participating in the 2002 May Term Spanish Immersion Program can corroborate Azorín's argument. The program was, to say the least, an intense immersion program.
Twenty-four students traveled to Alcadá de Henares with Professor Dieudonne Afatsawo and Professor Jana DeJong.
Students were placed with families who introduced them to various aspects of Spanish culture. The use of host families is not a new concept to the city of Alcalá de Henares. The custom of host families is closely tied to the Universidad de Alcalá and has been going on since the 14th Century. In general, these families did not speak any English, so students learned very quickly how to communicate. Families taught students essential terminology about household items. For example, meals were an excellent opportunity to teach students various types of food. In addition, host families were available for help with any matter like directions, recommendations of tours, etc.
The family offered a look at cultural differences in family life, but our classes offered a view of academic and educational standards in Spain. Participants could choose Intermediate Language Skills or Culture and Contemporary Issues in Spanish Society. However, one should not be misled. Each set of classes was very challenging. Each weekday, classes met for four hours of instruction followed by homework. The classes are normally taught over the course of a year, so the same amount of information was condensed into four weeks of instruction. Moreover, active participation in the classroom discussion was  required. Debates and discussion topics were supplemented with trips to local historical sites. While the Culture Class (303) was discussing Spanish architecture, the class would take field trips to nearby cathedrals or other structures to determine the style and influence the structure might have had. The local cathedral was a mixture of Roman columns with Visigoth detail. In the Contemporary Issues class, we regularly traveled to Madrid for press conferences, roundtable discussions, and scholarly presentations. Similarly, the entire group would go on excursions during the week and weekends. These trips would be to a destination relatively far from Madrid. Excursions included cities such as Avila, Segovia, and Toledo. These adventures augmented classroom activities from the past week. Excursions had a formal tour followed by leisure time for independent exploration.
On the other hand, the group truly adhered to the Hampden-Sydney adage of "work hard, play hard." The social life offerings in a city like Alcalá were quite different from those of Farmville. One popular hangout was the Plaza de Cervantes, the town's center, named for the famous author of Don Quixote, Miguel de Cervantes. The Plaza featured open-air bars and restaurants, cafes, and shopping venues. The bars are an integral part of the social life of Spain. Weekend nights were reserved for time at bars and at midnight a migration to a discotheque of your choice. Personally, I found the Coliseum Disco to be quite lively. My host family found it odd that I returned home at 2 A.M. They told me that the average college student stayed out at the clubs until 5 A.M.!
While bars might, arguably, be the most popular forum for discourse, I found my host family's patio to be a common place of communication. My family was very close. Every meal forwarded the opportunity for questions to be answered. Siesta was also a convenient time to talk or relax from a hard day's work. Siesta is a period to time, usually an hour or two after lunch, used to relax; however, this is not the end of the day. Work and school commenced again after the siesta.
The Program illuminated another particularly important facet: group dynamics. There was a clearly noticeable change in the group between the times we departed from Dulles Airport (DC) until our return voyage from Spain. Leisure time was sparse, but the group seemed to find something enjoyable to do. While bars and the Plaza were popular hangouts, many students opted to spend free time exploring the various Spains. My first trip was hiking in a nearby city called Cercedilla. Cercedilla is well-known in Spain for its hiking trails and rich natural environment. The train ride offered a glimpse of the diverse biogeography that quickly changed from a desert-like plain to green agricultural fields to a lush mountain valley.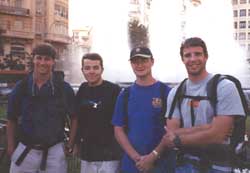 (left to right) Hunter Burnette '05, Thom Robbins '04, Joshua Thurston '03, Meade Stone '04 in Valencia
 Yet, the most memorable trip would have to be Valencia. A group of four Hampden-Sydney guys embarked on a trip to see the Mediterranean Sea. However, our trip began with a series of problems. First, we missed our train, so we had to regroup and develop another plan. Every door seemed to shut in our faces. We did not despair. Finally, we, with much frustration, decided to spend only one day at the beach and depart very early the following morning. That day we learned a lot about the varying strengths of each person in the group. Traveling with friends in a foreign country really has a profound effect on individuals to work together. Other students took trips to places like Mundaka and Cordoba.
Although traveling presented a perfect opportunity to bond with new friends, camaraderie was also seen through every aspect of the trip. Students were always helping one another study for a coming examination or explaining the difference between future and conditional conjugations. Perhaps the single thing that I will remember most will be the time spent with friends, be it through studying, discussing a multitude of issues ranging from religion to Spanish societal issues, or sharing stories about pastimes with host families.
Azorín would be delighted with the merits of the program. It truly captured the essence of the various Spains. Students left with only two desires: sleep and additional time in Spain.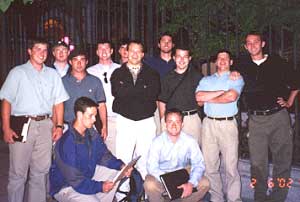 At Casa de la Americas, Madrid
(kneeling in front)
Matthew Anderson '05, Zack Hunt '03
(standing left to right)
Wesley Lawson '04, Joshua Thurston '03, Jesse Joyce '03,  Matthew Friedman '03,  Michael Roberts '05,  Derek Barker '03,  Thom Robbins '04, Adrian Allen '04, and Seth Jenkins '02