Milos Mihajlovic '04 is studying for the spring semester 2003 at Macquarie University near Sydney, Australia. Milos is an English major. His courses this semester include Creative Writing, Contemporary English Writers, and Modernism. The excursion to the Blue Mountains was part of the orientation program provided by the Institute for Study Abroad/Butler University.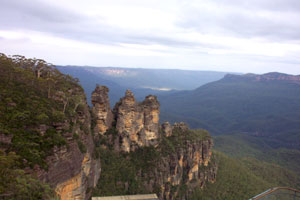 "These pictures were taken while we were at the Kemby-Rinjah resort in the Blue Mountains, about three hours south of Sydney. The first picture is of The Three Sisters rock face, an example of the beautiful landscape that Australia has to offer. 
The second picture is of our  Aboriginal bush-guide, Phil. Phil looked like a cross between Jerry Garcia (obvious from just looking at him) and an ancient Aboriginal chief. In the picture he resembles a king pointing out toward the edges of his kingdom!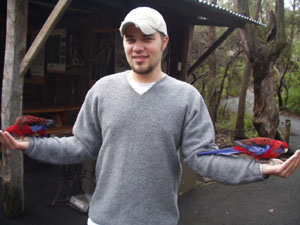 The last picture is of me feeding the wild parrots at Kemby-Rinjah, which we got to do every morning."
I've noticed that the people here in Australia seem to be divided as far as the war goes. Some are in favor of the war and support the U.S. completely in it's efforts. But the other half doesn't believe that Australia should be involved in it.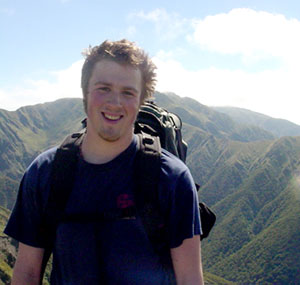 William Hardy '04 is studying at Victoria University in Wellington, New Zealand. Will, a psychology major, is taking Psychology Research Methods, Brain and Behavior, Introduction to New Zealand Sociology, and Maori Culture and Society.  Prior to the beginning of classes, Will took part in a traditional "Hangi" which includes Maori dancing, singing, and war chants.
Kia Ora. That's Maori for hello.  How is everyone.  I have been doing great.  A couple weekends ago three fellow Americans and I traveled to Mt. Holdsworth on a three day hike.  In New Zealand, a hike is referred to as a "tramp."  So anyway, we tramped for three days; the weather was beautiful.  We had to tramp at night for four hours the first night, and we ate peanut-butter and and jelly sandwiches for dinner (I told you I was eating right, Mom).  So we slept outside in the cold and had oatmeal for breakfast.  We continued our hike the next day.  We made it to Mt. Holdsworth.  If I remember correctly, it was 1500 meters high. The wind was insane.  We stopped for lunch at Jumbo Hut.  There we ate more sandwiches and chips and salsa (the highlight of our food).  Drenched with sweat and tired from the hours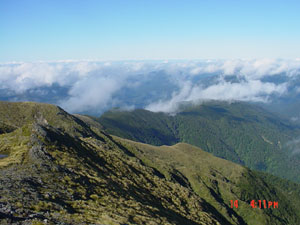 of tramping, we slept for a short period.  For dinner we had the crazy mix of cream corn, chicken flavoured noodles, and chicken and corn flavoured rice (you'll notice I spelled flavour with a "u" that's the English way).  It was actually really good.  But then again we were really hungry.  The hike down on Sunday was hard, considering we were in a cloud cover.  It didn't rain, but the ground was muddy and slick.  I had tons of fun.