by Wesley R. Sholtes '05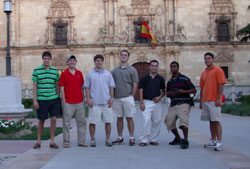 From May 17 to June 21, 2003, Assistant Professor of Modern Languages Dieudonne Afatsawo, Lecturer in Modern Languages Keith Sprouse, and fifteen Hampden-Sydney students spent an arduous, but highly enjoyable, May Term Study Abroad program in Alcala de Henares, Spain.
The program, which combined the teaching styles of native Spanish-speaking professors with those of Afatsawo and Sprouse, included three hours of class each morning and several excursion trips.  In order to maximize their immersion into the language and culture of Spain, students also stayed with host families who only spoke Spanish.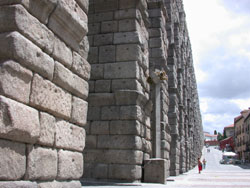 Among the noteworthy cities and sites that the group visited were Madrid, Sevilla, Avila, El Escorial, El Valle de los Ca?dos, Toledo, all renowned for their historical and cultural relevance to Spain.  Students spent time gawking at cathedrals, castles, an aqueduct, huge stone walls, a huge monument to Franco, and famous paintings and artwork in the Museum Prado and the Reina de Sofia.  The excursions usually involved walking long distances and carrying bocadillos for lunch, all the while sweating profusely under the fierce Spanish sun.
Tony Quitiquit (far right in picture above), a sophomore from Emporia, VA, participating in the 201-202 class taught by Sprouse, offers his comments about the quality of the program from an academic standpoint.  "I learned more in five weeks than I would [have learned] in two semesters," says Quitiquit.  "I would have liked it a little more relaxed."   Quitiquit says that some nights he was unable to go out of his house because he had to study in order to get a decent grade.  "May term is just as much about experiencing the country," he asserts.
The 303-485 class, on the other hand, viewed their work load as relatively light in comparison, although the class itself was far from easy. The upper level class attended several lectures in Madrid, gave daily oral presentation analyzing a news article or television show, and wrote several papers. Despite these challenges, advanced students generally had time to enjoy Spain and improve their Spanish through constant exposure to locals.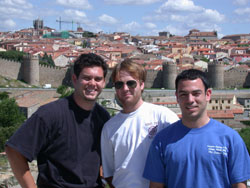 Such exposure often took place off the beaten path of tourists, especially with regard to the nightlife in Alcal? de Henares.  Many students spent time in bars and discotheques that, on weekends, are open as late as 8:00 in the morning. As one might gather, a few students spent practically the whole night partying before going to class or to their excursion.
In a couple of instances, such habits caused disharmony with the professors. Yet despite a couple of foolish incidents, many found themselves more mature after a month of freedom in a foreign county.  According to Quitiquit, "There was a lot of [growing up] on the trip."
Quitiquit believes that the friendships he made with both the native Spaniards and American students studying in Alcala made his trip to Spain worthwhile. "I can come back to Spain and have a home."  Students made good friends with Spaniards and with a number of Latin Americans visiting Spain to work or study.  Some were from Mexico, Argentina, and Chile.
However, because many American students were studying at the nearby University of Alcala de Henares, Hampden-Sydney students found it all too easy to hang out with them and to speak English.  Hampden-Sydney students made friendships with other students from Alabama, North Carolina, Ohio, Arizona, California, and other states.
Favorite pastimes for students included eating tapas and hanging out in the Plaza de Cervantes, a familiar gathering place for the Spanish people in which it is the custom to sit down and socialize for several hours.  In fact, Spanish people never visit each other's houses for social purposes; rather, they go out to a plaza or park to pass the time of day or night.  As a result, couples kissing or embracing on benches in public is a familiar sight.
The typical family in Spain does not spend much time working while at home. After meals, the primary activity is watching television; they only have a few channels. The food is simple but served in large quantities, especially at lunch, which is the biggest meal by a long shot. After the main meal, which is eaten no earlier than two in the afternoon but usually later, the Spanish people take a siesta until about 5 or 5:30.  Our students would usually spend this time with their host families before going out again around six.  Supper was served around nine or later.
During the four-day vacation set aside by the program for traveling, a majority of the students elected to take a trip to the beaches of Mallorca, a large island off the east coast of Spain in the Mediterranean.  While staying at a four-star hotel designed for vacationing families, students cooked meals for themselves in their rooms and got sunburned on the beach.  Quitiquit thoroughly enjoyed "sitting under straw huts, eating pineapple, and looking out at the clear, blue water." A few students also took the opportunity to go snorkeling nearby.
Toward the end of the trip, a few students went to a bullfight.  At the bullfight, matadors alternated and killed five bulls altogether, while a sixth lived to see another day. The matadors demonstrated an impressive display of hand-eye coordination and strength.  Excitingly, the last bull charged at and succeeded in knocking over a well-armored horse and its rider, whose purpose for the bullfight was to weaken the charging bull by stabbing the bull in the neck using a long pole with a sharp prong on the end.
Other students went shopping in Madrid on occasion and visited the swimming pool when it opened toward the end of the trip.  One student even went to another beach with a female bartender from Mr. Donkey, perhaps the most popular bar among the students because of its adaptation of the American concept of happy hour.  Still others played soccer in the park from time to time.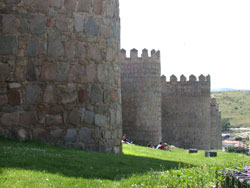 When all was said and done, everyone was ready to go home when the time came.  However, when they look back on their experiences, they will never forget them.  Nor will I. I highly recommend the program to anyone looking to get six credits in Spanish and enjoy a foreign country to the maximum.