by Joseph P. Andriano '10
When I exit my apartment building every morning, it is quite clear I am no longer in Farmville, VA.  I make a quick left off my street, and I am on the hustling and bustling Avenue de la Grande Armee.  This road runs under the Arc de Triomphe, and on the other side of the Arc is the very famous Champs Elysees.  I quickly enter the Paris Metro, a world with countless people each doing his own thing.  The Parisians keep very much to themselves, and they do not make eye contact with each other.  It is amazing to turn on your I-pod, pronounced "e-pod" here, and to have a great sound track by which to watch all the different people on the Metro.  I love having unlimited access to the Metro; it is truly amazing.  I ride it to and from school and then wherever else my day takes me.
The French have very interesting cultural differences, and contrary to the typical stereotype, they are some of the nicest people.  When I first met my host family, it was quite comical.  I was exhausted from my trip and struggling for the right words.  I definitely doubted my French skills, and I realized I had a ton to learn but that was why I came here.  I sat down for dinner a few times with my host family when I noticed that they always placed their bread on the table, not on their plates. They also were very particular about always using forks and knives while eating, and this goes for anything.  One night my host mom made pizza.  I watched for a minute as they carefully dissected it with fork and knife.  However, this was where I drew the line; I mean, hey, I have culture too.  I picked it up, folded it, and ate it like it was made to be eaten.  They thought it was funny.  Also trust me, they love their baguettes; they always have a fresh one for dinner.  They also eat one for breakfast; beaucoup de bread.  In the Metro, I have been hit by a baguette or two by people on their way home.
The French care very much about the environment, and it makes me think about our habits in the United States.  My host family only uses lights at night, air dries their clothes, recycles almost everything, and keeps their heat very low.
One of the first nights I was there, I walked in a little store near my apartment and, when I entered, I said "Bonjour" to the owner, who replied "Bonsoir."  I was confused at first, but they change their greeting at some point in the afternoon.  However, I think it confuses them sometimes, too.  It really has been such a great experience living with a host family.  Each night I have dinner with them, and we talk about all kinds of things in French, and it has really helped improve my language skills.  The French love to talk about politics, especially American politics.  They always want to know who I think will win the American election, Barrack Obama or Hillary Clinton.  I tell them John McCain.  Learning another language can be such a brain tease, and there are definitely times when I catch myself saying ridiculous things.  I definitely understand why people trying to learn English sound the way they do.
There are literally too many things to see in Paris, but I started with the obvious ones.  The first time I laid eyes on la tour Eiffel overlooking the Seine, I would have to say I was a bit disappointed.  It looks like a hunk of metal, but it grew on me, especially when it is lit up at night.  I pass it everyday on the way to school from the Metro, and I later found out the French did not like it at first either.  When it was first built, it was called the "Wire Asparagus."  An amazing monument is l'Arc de Triomphe, conceived by Napoleon I.  The workmanship on the monument is incredible.  In my opinion, the most amazing building architecturally in Paris, is the Opera.  The stone and marble work inside is like nothing I have ever seen before.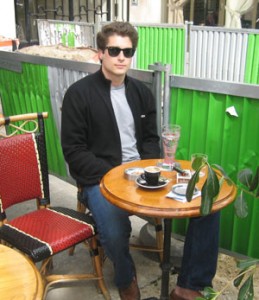 Paris is amazing, and it is incredible that from my doorstep I could easily throw a baseball and hit anything you would ever need, a place to get your haircut, a grocery store, bank, multiple car and motorcycle dealerships, countless restaurants and cafes, a couple discotheques, etc.  After living most of my life in pretty small towns, from time to time, all of the people can be overwhelming; however, I have absolutely loved the experience, and I am sure that when I leave here, I will miss so many things about Paris.
July 2008