by R. Wesley Proctor '10
I don't really know how to describe my preconceptions going into my May Term abroad program in Costa Rica other than about 95% pure excitement mixed with 5% apprehension about living with a foreign family whom I knew relatively little about, not to mention the language barrier.
Hindsight is 20/20 and I have the good fortune of being able to say that I would not have done anything differently. Pushing myself to speak the language and interact with the family and the local community yielded tremendous dividends in both conversational improvement as well as in social education. I learned a lot about myself and an international environment while having a good time in paradise.
There were 16 Hampden-Sydney students on the trip. Everyone lived with a Costa Rican family and made their way to class twice each day at the institute where we studied.  During the week we worked hard during the day and unwound a little a night, but the weekends were definitely highlights.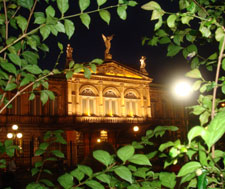 The first weekend we toured around San Jose getting acclimated to the area as well as seeing many museums and places of interest, such as the Teatro Nacional (left), which was a standout because of its fantastic architecture.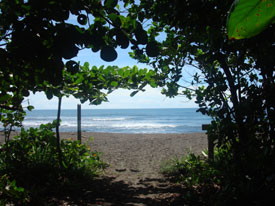 The second weekend we went to Manuel Antonio (right), a rain forest national park positioned next to Quepos, a small fishing town. With the help of my taxi driver, I set up a day of off-shore fishing which turned out great; although it was the off-season, we landed a sailfish.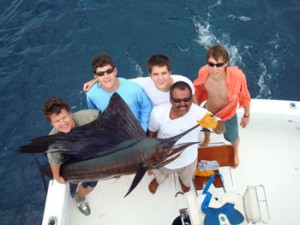 The following Friday I was invited by my host sister, who is my age, to go to one of her friend's birthday parties. I foolishly accepted not knowing how hard Costa Ricans throw down. They told me I was welcome to bring a friend, so I invited Holden Bryant '10. The party was ridiculous. One thing that was hard to keep in my mind was the possibility that some of these people do in fact speak English. It was about 10 minutes of my stumbling with my Spanish trying to tell someone, whom I thought to be Costa Rican, about the plot line of The Dark Knight before he informed me that he was from California.
Getting up at 7AM the following morning wasn't the easiest task, but there was no way I was going to miss Costa Rica's most active volcano, Arenal.  If there's anything that wakes you up in the morning it's vistas of liquid hot magma chased by hot springs with waters of varying temperature both with and without aqua-bars.  Seeing this volcano may very well have been the highlight of the trip.  It was majestic, impressive, and humbling all at once.
Our final weekend we visited Tortuguero, an island in the Caribbean where turtles go to lay their eggs.  It was quite a trek to get there, but, when we did, it was worth it.  The beaches were astounding; the water was the perfect temperature, unattainable in any bath or Sharper-Image product.  I went fishing and canoeing; both offered uncanny views of the Caribbean Coast.  The canals behind Tortuguero made me feel like I was in the Amazon and far more intrepid than my mom may have liked.  We saw three types of monkeys, a sloth, toucans, crocodiles, and many other animals for which I lack the proper nomenclature. The trip was a blast.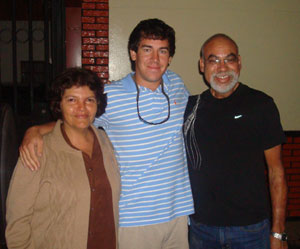 The following weekend was our departure, which was bitter sweet.  I had such an indescribably good time and bonded with my host family, with whom I still keep in touch, but as always it's good to be back in the old U.S. of A. as well as Hampden-Sydney.  The trip had such an effect on me that I have decided to minor in International Studies as well as a Spanish minor.  I would advise anyone who is thinking about doing a study abroad program to just check all reservations at the door because for me it was the experience of a lifetime.