Hello from the Emerald Isle! I'm really thankful to Hampden-Sydney College for giving me the chance to fulfill my dream of traveling to Ireland. One might ask: why would I pick Ireland instead of somewhere like Germany, Spain, or Australia. The answer is fairly simple—history. The history engrained in Ireland is both mystifying and rich. The preservation of the Catholic Church at the fall of the Roman Empire and the multitude of bloody battles over centuries for Irish independence are two fine examples of the history of this fine country. However, history was not the only factor in my decision to study in Ireland. The vast and beautiful natural world that Ireland offers, with rolling green hills and spectacular cliffs, appeals to my love for nature and to my Environmental Studies minor.
Now that I'm in Ireland, the long wait for classes to start has begun. My biggest fear is how different these classes will be from Hampden-Sydney College. When I got to University College Dublin (UCD Dublin) on Tuesday, I walked around campus to soak in the atmosphere. The campus is huge and really spread out; I have to walk way further to get to my classes here than I did at HSC. Another big difference is the environment for classes: instead of small classrooms,  UCD Dublin uses theaters that seat nearly three hundred students. Hopefully my anxiety for these changes subsides, but we'll have to wait and see.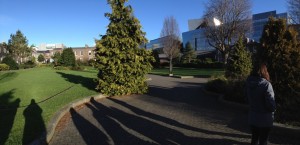 I'm trying to plan a trip to Sunderland, England to watch the Sunderland A.F.C. (Go, Black Cats!) face Burnley F.C.. Hopefully, this won't be the only time I travel; I hope to travel to Iceland, Norway, Denmark, and Germany and see more of our incredible natural world.