Thomas Bourne, April (Dublin)
I believe spring has arrived in Ireland, but possibly not. Last week, the weather was perfect. The temperatures were comfortable, the sky was clear, and there were lots of students with ice cream playing on the various greens around campus. I really wanted to imitate them, but I had to get to class and I had way too much sugar last week. This week, however, the weather has changed for the worse—it's cold windy, raining, and sometimes hailing. The drastic change in weather reminded me a lot of the weather back at HSC. Fortunately, the weather forecast predicts improvement. I've been looking in to visiting some nice Dublin beaches, so I'd love to do that when I have a day off.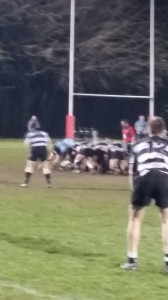 I played my last competitive rugby game last Thursday with UCD Dublin, and I'm sad that the season is over. It was an honor and an amazing experience to play rugby in Ireland and learn more about the game from them. We lost our game Thursday by one try, after a hard fought game. We were determined the underdogs, but we didn't let that get us down: the other team really had to fight for their result. It was a dream come true to play rugby in Ireland!