May 27, 2015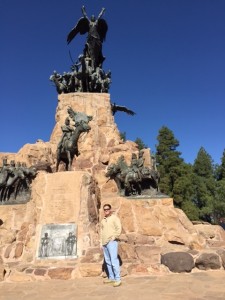 After traveling for around 24 hours, my fellow Hampden-Sydney students and I arrived in Mendoza Friday morning. The length of the travel time was the least stressful part of the trip though.
We arrived at the airport in Richmond ready to set out on the trip of a lifetime. We immediately ran into problems at the check in desk, this was a small portion of the problems we would face. We had been previously informed that the airline would allow us to have two checked backs at no extra cost due to our international flight. The staff at the desk quickly told us this was not the case. Each person who wanted to check a second back then had to pay an extra $75 for their checked bag to make it all the way to Mendoza.
The connection in Atlanta went smoothly. We then set out to Miami. Once arriving in Miami, we headed to the gate of our flight to Santiago. Once there, we attempted to obtain our boarding passes from the staff there, however, we were informed that we would all need to exit the area and retrieve our other boarding passes from the front desk. After having Dr. Thornton watch all of our things at the gate, we made our way back through the airport and received our new boarding passes. The worst part was having to go back through security (for those who may not know, the TSA in the Miami airport are not very pleasant).
We then boarded the plane to Santiago; the flight went well. After landing in Santiago and hanging out for about an hour, we had finally boarded the flight to Mendoza. It was finally setting in that we were so close to what will be a very fun and educational month abroad. This flight was my favorite due to the striking views of the Andes Mountains as we soared over them.
After landing in Mendoza, we went finally met our host families. I met my host "mom" and "sister." I was somewhat nervous about meeting them, mainly due to my incomplete knowledge of Spanish. However, I was quickly relieved when I realized that I know enough to communicate and that they were very patient when I attempted to have conversations with them. This is the first time I have been totally submersed in a culture so different from the United States and I am quickly realizing how beneficial this experience is.
After leaving the Airport with my family, we drove to our home. The house is located in a residential area of the city. It is only one block away from Mendoza's largest and most beautiful parks. My host mom and one of her daughters live in the home. My host mom's 6-year-old granddaughter visits daily.
My first impression of Mendoza is that it's a beautiful city with a lot of culture. Many of the people here are from a European background, which gives them an interesting dynamic. My favorite part of the culture is siesta. Businesses close and people leave work to eat lunch with their families. After lunch, everyone actually takes a nap! This is so different from the US but I really enjoy having time to relax in the middle of the day.
I am most looking forward to learning my way around the city and trying as many new types of food and wine as possible during my time here. I want to absorb as much of the culture as I can.