Nick Browning
Work Hard, Play Hard
Our second week in Alcalá was a little less exciting than last week, but that's because we had to do all of our classwork in the first half of the week, so that we could enjoy a vacation during the second half of the week. Monday, Tuesday and Wednesday were each days full of six hours' worth of class. For us, that meant covering Spanish history from the medieval times until the early 1900's. This completed our crash course of 2,500 years of Spanish history that we completed in six days of class. We didn't find out until the last day of class, but we completed in two weeks what Spanish high school students learn over two years. At first it was very tedious having to learn dates, the organization of the government, the various capitals and the constant power struggle in Spain; however, for our final project we had to write a paper about one of the 17 autonomous communities in Spain, and I realized that everything in Spanish history is still relevant to everyday life. Learning the history of the various regions of the peninsula gave me insight into why things are how they are today. For example, Aragón has historically disagreed with the kingdom of Castilla. The two were brought together through the marriage of the Catholic Kings, but even today the land of Aragón (Cataluña) is fighting to be an independent, sovereign nation.
Once we finished our final paper on Thursday, we were able to travel for the rest of the weekend. Most of the group, including myself, went to Valencia. I traveled with two other guys, Kyler Vela and Brett Shaw, and I enjoyed not only my first hostel experience but my first Blablacar experience as well. Blablacar is like a long distance Uber, you can catch rides with people driving to other cities for only a fraction of the cost of a train ticket. Our driver, Benjamin, grew up in Valencia, so on the 3.5-hour car ride he told us where we should visit and what we should do. It was a cool experience given that he didn't speak any English and we were able to travel the highways like Spaniards do. It was my first time really getting outside of Madrid in either of my trips to Spain, and it was awesome being able to see the changes in the landscape as we drove from the middle of the country to the coast. While we were in Valencia we divided up our time between visiting the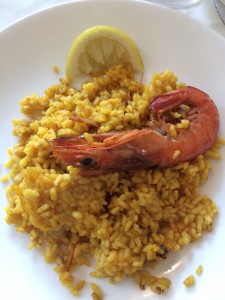 historic monuments like the two medieval towers, the silk market, the cathedral, and the functioning market in which you could buy almost any food you could desire. When we weren't exploring the city, we were either trying out some local food like the famous paella,
or we were hanging out on the beautiful Playa Marvillosa.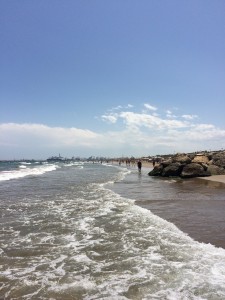 The lifestyle of Valencia was a lot different than the lifestyle in Madrid; it was still a giant city, but it had a small town feel that would be impossible to obtain in Madrid. Valencia is large and historic but it is also inviting and modern. As of now, if I were able to move back to Spain, I would more than likely move to Valencia.
The UEFA Champions League final was on Saturday, and just like in 2014, the two teams were Real Madrid and Atlético Madrid. Soccer in Spain is a religion with politically infused sentiments, and it was awesome being able to experience the madness that takes over during big games like this. We weren't even in Madrid during the game, but the Valencians were going crazy. We were at a restaurant that didn't have a TV when we realized that the game was going to be determined by penalty kicks, so we ran over to a bar. When we got there we found out that there weren't any TV's in any of the restaurants or bars on the street, so we listened to the end of the game on the radio with the Argentinian bartender. It wasn't ideal, but it was an experience that I wouldn't have been able to enjoy if I wasn't able to understand the Spanish language.
The second week of our program was definitely front loaded with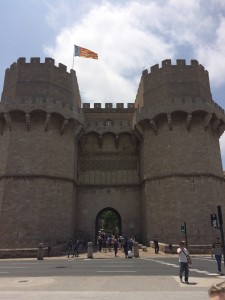 classroom work given that we had to study nearly a millennium of Spanish history, but it was well worth it. I'm loving being back in Spain again. It's like no place else. I can't believe how fast the experience is flying by, and even though it's my second time here, I'm constantly learning more about Alcalá and all of Spain.