Hasta la proxima (Until next time)
Nick Browning
After finally getting into my routine, it's already time to leave Alcalá, but this past week has been awesome. On Sunday, my class went to Madrid to go to El Retiro, the Madrid equivalent of Central Park, and afterwards we stayed in Madrid to go to a bull fight.

The bull fight was exactly what I thought it would be, and although it's becoming a controversial topic in Spain, I really enjoyed it. Classes this week were interesting because they were more of a conversation than a lecture. Because we have a small class, myself and three others, we were able to hold a few of our classes outside of a café. I guess that's the perks of studying abroad on a small program through our small college. We talked about everything from the economic situation that Spain is dealing with, to the outlook for college graduates in Spain, and even the elections that are crazy enough to rival our own in the United States.
On Wednesday, we took our last excursion to El Escorial and El Valle de los Caídos (The Valley of the Fallen), and despite all the amazing places we went over this past month, I think this was my favorite trip. El Escorial was built in the 16th century as a tribute to the battles won by Felipe II and as a place to entomb his father, Carlos I. To this day, the building is still used as a school, a library, a monastery, a museum, and the actual burial site of all the kings and queens of Spain since the 1500's. We went down in the octagonal room where all of the coffins are and could see the names of the kings that we had studied over the past month, and for me this was the coolest part of the entire building. I really appreciated El Escorial that much more after this visit, because I was able to follow everything that the guide was saying, and I was able to connect it back to what we had learned in class. After the tour, we took a trip up into the nearby mountains to visit El Valle de los Caídos.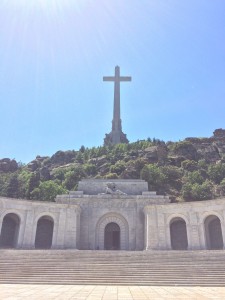 This is actually a basilica that was completed 20 years after the end of the Spanish civil war as a memorial to those nationalist soldiers that fought in favor of Francisco Franco. It is an amazing place because it has a giant stone cross that sits on top of the mountain, but the basilica itself is actually built into the mountainside. The building itself represents a dark time in Spanish history, however, it is hard not to be amazed by the architecture.
I can't believe that our month in Spain is already up. I definitely picked up on some subtleties of the Spanish culture that I missed before. One of the most interesting things that I realized while I was here is the fact that the Spanish people, and people from other countries as well, are extremely in tune with the American presidential election. Almost every day since I've been here, I've seen either Clinton's or Trump's face on the television. People would constantly want to talk to me about it, and I couldn't believe how interested they were about the whole thing. I find it especially interesting that they are interested in our election, but the Spanish presidential election is coming up in a few weeks on June 26th. Their election is just as, if not more interesting than ours because it is actually a run-off election. The first election was in December but there wasn't a majority winner out of the four candidates, so now they're having another one. After talking with my host family and some other students from the University of Alcalá, I got the impression that they're just as fed up with the political process as many Americans are. It was awesome to be able to have these in depth conversations with people in their own language. I realized that even though our cultures are completely different, Spanish and Americans deal with and care about many of the same issues.
I'm really going to miss the Spanish lifestyle when I get back to the States: the food, the laid-back attitudes, the weather, the public transportation, but most importantly the people. The people here have been extremely nice and helpful. I plan on staying in touch with my host family and especially my little brother here in Spain. They've been awesome this entire trip. I'm extremely glad that Hampden-Sydney makes it so there is only one student with each family because I don't think I would've had the same experience had one of my friends been with me.