Ryan Kluk
Kluk Down Under Blog 1: Welcome to Perth, Western Australia
Hello, I am Ryan Kluk. I study at Hampden-Sydney College in rural Farmville, Virginia. I am a rising senior but for this summer I am studying at Murdoch University in Perth, Western Australia. I am taking two marine biology courses during my five week tenure here. Perth is so different from home back in the States. Perth is home to skyscrapers, 2.02 million people, and next to the beach. Perth is like Chicago, Illinois with its skyscrapers and enthrallment with sports but Perth is not nearly as cold and has 300,000 less people. Perth is a beach city, with suburbs like Fremantle (Freo for short.) Enough about Perth; let me tell you about Murdoch University.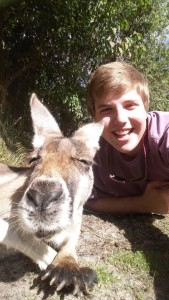 Murdoch is about a twenty minute commute from Perth and containsabout 15,000 students. Murdoch is a wide campus divided into two separate parts. First, you have the academic side where all classes take place but where the courtyard and shops are stationed on campus. Murdoch is a gorgeous campus that has a wide variety of Australian wildlife such as: Australian Black Cockatoos, Quendas (Southern Brown Bandicoot), and Crows that wake you up in the morning and distract you during class. On the other side of campus, is the student living section. I live in the University Village. I share an apartment with four girls and three guys. This is my first time living with girls in a dorm and it is quite strange because Hampden-Sydney is an all-male school; where, I only live with guys. Here, I have my own room that is an average size with a bed, closet, and desk. We all share a kitchen and a common room that acts as a living room. My hall mates are great. I have truly bonded with them. All eight of us are from all over the United States. The rest of the students in my program live in the apartment style dorms that are across the street. There are thirteen of us total.
Classes started today and they are just like back home: fifty minute lectures with a five minute break in-between. However, we are not at Murdoch for long because we leave on Sunday, June 19th, 2016 for Ningaloo Reef near Exmouth, Western Australia. While there, we will be conducting research on the clams stationed along the reef.
Food here is not much different than in the States, except there are not nearly as many preservatives. Kangaroo meat is utterly amazing. It taste like steak, but better. Oh, and Australians love BBQ sauce. They put BBQ sauce on everything from breakfast sandwiches to pizza.
The Australian culture is amazing to experience. They love talking about sports and having a brew for lunch. Australians are extremely curious about American politics and ask about American stereotypes all the time. However, a lot of the Australian stereotypes seem to be true. A lot of Aussie's drive jeeps, wear rustic clothing and are remarkably helpful.
Well, that's all for now. Stay tuned for more adventures of Kluk Down Under!