Greetings from 28.22° S 37.16° E!
Tillmon Cook
I am approximately 830 nautical miles from Cape Town, South Africa, and I could not be happier to see land. It has been 10 days since I've walked on solid ground and I still have another two days to go. Since my last update, I have been to two ports. From Ho Chi Minh City, we sailed to Yangon, Myanmar, and from there my voyage traveled to Cochin, India. We were supposed to sail to Mauritius, but sadly, a lot of difficulties regarding the ship came up so we were not able to port. However, we have had a lot of activity days on the ship. The first was Neptune Day. This is a tradition on Semester at Sea, and it marks the crossing of the equator! The next was the Sea Olympics, and this was various games that the different "seas" (students living in the same area) competed in. My sea didn't win, but hey, we didn't come in last either.
Myanmar was amazing and I could not have asked for much better. The first day consisted of a walking around the city of Yangon, and visiting various landmarks. The most famous place we visited was the Shwedagon Pagoda. This is a huge, golden, Buddhist temple that people go to and pray. In fact, there are Pagodas all over the country of Myanmar. The next few days I was on a field program called Undiscovered Myanmar. This trip included visits to Buddhist temples and to various rural villages around the Mon State of Myanmar. On the first day, our group visited the Golden Rock Pagoda. This is a Buddhist temple that is centered around a huge golden rock that is perfectly balanced on top of a mountain. My favorite day, however, was the third day. My group went kayaking, and took a short hike to the top of Kaw Ka Taung mountain. The view from the top was flawless and will most likely be a picture that I'll always have in my head. Although Myanmar's port went by way faster than I would have liked it. This country was amazing and so incredibly different than the United States.
The Next port of call was Cochin, India. I didn't have any particular expectations for India while sailing to the country. However, I was touched in both a positive and negative way. Positively, because India has so much to offer. The people are incredibly nice (if they aren't trying to bribe you for money), and the landscape is beautiful. I was influenced negatively because of India's poverty. I was fortunate enough to spend my first day in port at an orphanage. We spent the day playing and dancing with children. I also spent time with the manager of the facility. He told me how he had been struggling with funds and that he would take anything he could get to help the children. This truly broke my heart, but nevertheless, I appreciated every bit of my short time with the kids and I hope that they did as well. The rest of the week was spent with my two friends traveling to New Delhi. We spent a day and went to the Taj Mahal, and now I can confidently tell someone why that is a wonder of the world. It is without doubt the most beautiful structure I've ever seen and a true symbol of love. I did learn while I was there that there was supposed to be another monument that mirrored the Taj Mahal, except it was supposed to be black. But because of emperor family drama, it was never constructed.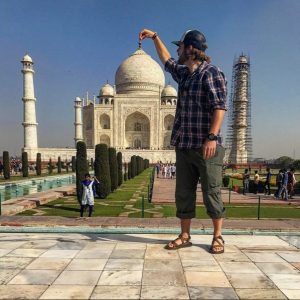 I'm so incredibly excited for South Africa because of all the adventurous things it has in store. I'm not sure what I'll be doing yet, but I know I'll make memories that will last a life time.