The Office of Global Education and Study Abroad is pleased to republish this article from The Record with Pierce Buckingham '10.
The Adventure of a Lifetime
By Karen Huggard
On the windswept plains of the Mongolian Steppe last August, a group of extreme adventurers recreated the famed postal relay routes of Genghis Khan. Dubbed the world's longest horse race, the Mongol Derby pits riders against each other in an endurance race across the rugged territory of northern Mongolia. Although more than 40 riders attempted the 1008-kilometer course with its varied terrain of flat grasslands, steep hills and valleys, river crossings, and rocky passes, only 27 finished—among them Pierce Buckingham '06.
No Horsing Around
Over the course of ten days, Buckingham and his competitors had access to 1500 semi-wild Mongolian horses spread out among the course's 28 checkpoints. All of the horses had been ridden before by local herdsmen, but most had not been ridden consistently or even recently. With their saddles, backpacks, and helmets, the derby riders "looked a lot different, smelled a lot different, and acted a lot different" than the local herdsmen, according to Buckingham. As a result, many of the ponies spooked easily and proved difficult to mount and control.
At six-foot-three-inches tall, Buckingham was at a further disadvantage on the small-framed ponies; in choosing a new horse at each checkpoint, he recalls, "I had to play charades with the herdsmen to pick out a horse strong enough to carry me." He didn't rely on charades alone, but also used his ten years of experience as a racehorse trainer to his advantage. "I'd look at the horses' gums for scars. When horses really take off, riders pull on the bit so hard that it cuts their gums. So I'd choose a horse with cuts or scars, because I knew it would be fast."
Choosing that type of horse had its disadvantages, though. "You had to know where you were going before you got on, because once you were on, it would take off like a shot. You wouldn't be able to stop for a few kilometers, and you didn't want to be headed in the wrong direction." Using GPS, Buckingham clocked a top speed of 28 kilometers per hour at full gallop—about 17 miles per hour—a pace some ponies would maintain for a full ten kilometers before calming down.
Nothing Typical about It
For nine days straight, Buckingham averaged a grueling 70 miles per day. Starting at 7 a.m. and riding till 8:30 p.m., he took advantage of every minute that the course was open. Water, a snack or a meal, and a fresh pony were provided at checkpoints spaced approximately 40 kilometers apart. Meals were simple, typically consisting of mutton stew, goat or yak milk, and stale bread. Mongolian families along the way came cheered the riders on, often offering them local delicacies like Aarull, dried milk curds, or Airag, fermented horse milk.
Some checkpoints provided tents for sleeping, but racers could also ride further and camp under the stars or stay with a herdsman and his family. A booklet with translations of phrases like "I've lost my horse," "Where's the next town?" and "Can I stay here tonight?"—coupled with more charades—helped Buckingham find shelter on the nights he chose to sleep on the Steppe. Each time, he found the Mongolian people warm and hospitable, willing to share what little they had with a stranger. After staying with one family who had no water or food to spare, he was careful to stop at tents with a large number of livestock and a solar panel—signs of prosperity that meant his stay wouldn't be an imposition. Although the language barrier was difficult, Buckingham says, "Smiling and looking appreciative is a universal language."
The Mongol Derby is ultimately about adventure and danger, though—not tourism or cultural exchange. The warning at the bottom of the official website says it all: "You cannot overestimate the risks involved in taking part in these adventures. Your chances of being seriously injured or dying as a result of taking part are high. Individuals who have taken part in the past have been permanently disfigured, seriously disabled, or lost their life. These are not holidays. These are adventures and so by their very nature extremely risky. You really are putting both your health and life at risk. That's the whole point."
The Lost Days
Although derby participants typically travel in small groups, for two days and nights Buckingham rode the windswept plains of the Mongolian Steppe alone—isolating days that blurred into each other. Severely dehydrated on the third day because of a broken water filter, Buckingham encouraged his group to continue on while he remained at a checkpoint to rehydrate. It took him two days to catch up.
"I was in even more of a race mode those days, pressing the horses to see what they could do. I didn't have time to worry about what would happen if I fell off and couldn't send an emergency signal, or if I got thrown and injured my spine, or if I got dragged by my horse. I had to be in the moment, thinking of how I would get from point A to point B." He could have sacrificed time and waited for a group that was a day behind him, but his competitive edge wouldn't allow it. "The entire time," he says, "I had no other thought but to catch up."
He did have some company on his solo ride: "Herders who saw me riding came over on their horses to gallop with me for a while. Even the little kids would come out on their horses and ride with me. Then they'd pull off,
and I'd push on."
Making those days even more challenging was his malfunctioning GPS, which lost the race route and showed only the checkpoints instead. "The only information I had was an 'as the crow flies' line, so I had to think a little bit more. I figured the race coordinators had done it to everyone—taken away the race line to make it even more of an adventure." But when Buckingham casually mentioned it to someone at a checkpoint, he learned he was the only one who had lacked the information for two days. Although he had to swim across a few rivers, he says, "I made it, and it was fun."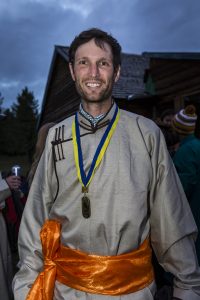 The Key to Success
As a thoroughbred-horse trainer, Buckingham is used to 12-to-16-hour work days in the South Carolina heat, sometimes going several months without a day off. No amount of physical labor, however, can approximate the physical demands of the Derby, which Buckingham found more taxing than he ever imaged. There is no way to truly prepare for the event, he claims; only through sheer willpower can riders endure the pain. "You have to get over the fact that your body hates you, your brain hates you, and the horse doesn't really want you on its back," he says. "At that point, it's more mental than physical." He also notes, "In the Derby and in life, it's easier to do things you didn't think were possible when you surround yourself with like-minded people."
The Derby came at a time of transition for Buckingham; after ten years of six-day work weeks training horses for owners the likes of the ruler of Dubai, he was getting restless. "My wife and I were looking for a change and needed a little adventure in our lives to spunk things up. Reading an online article in December of 2015, I saw a suggested article from Outside magazine about a guy who had completed the derby a year prior. I read the article, looked on the Mongol Derby website, talked to my wife about it, and knew I wanted to do it. We decided if I was still as excited about it in the morning, I would submit my application."
Seven short months after he first learned of the Derby, he was waiting in the Moscow airport for his final connection to Ulaanbaatar, Mongolia. "The timing was right," Buckingham recalls. "I thought, I'm in shape, I have the time to do it, I've been working my tail off for ten years, and it is time to do something for myself. I needed
an adventure."
There is no doubt that Pierce Buckingham has chosen a life outside the norm. His philosophy? "You can't stay in a box, look at other people living life, and think, Why can't I do that? Test yourself and your limits. Live life with a purpose. Only you can make it happen."