Quinn Sipes
Japan Blog 6
7/21/17
When I last wrote, I had just finished my class and had an awful performance and I was so ashamed that I wanted to commit ritual suicide on stage to make up for how terribly I had performed. Well safe to say, I am still alive and I woke up the next day after my evening escapades with my classmates and teachers. I decided that after such an intensive class that I would take a one-day breather, so I really didn't do anything except watch YouTube all day that Saturday. On the Sunday I made plans to go to Yokohama to visit the Ramen Museum.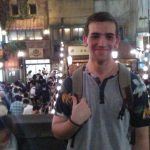 I know that you may be thinking that the Ramen Museum sounds like a waste of time and super boring because it will just be a bunch of plastic ramen displays in a building. Not true! The Ramen Museum is what is known as a food amusement park. The building does have some plastic displays which talk about the creation of ramen and the various types all across Japan, but if you venture into the basement, you will be transported to 1940s post war Shinjuku, Tokyo where there are ramen shops all around. You get to have your pick of where you want to eat and how much you want to eat! There were 7 ramen shops in total all around in this 1940s Shinjuku neighborhood. There was also an old sweets shop and ice cream parlor that you could go into and buy some things to snack on. Because I went on a Sunday, the place was packed!! It took me 45 mins just to push a couple of buttons on the ticket machine to order one bowl of ramen and a bottle of Coca-Cola (which by the way is made from real cane sugar and taste waaaayyyy better than the corn syrup version we have in the states). And now I can say I had ramen from the Hokkaido region of Japan, somewhere where I won't be able to visit.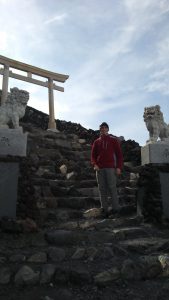 Remember how I said I might go to Mt. Fuji but it was up in the air? Well guess who hopped on a train at 5 in the morning to get there…that's right this guy! And guess who was dumb enough to put on a backpack and hike up Fujisan to the summit…yup! This moron! I arrived at Fujisan at about 10 am and began my ascent to the top at the Fuji-Subaru Line 5th station which is like 2 kilometers up the mountain…not much but well worth doing it from there compared from the bottom. The ascent took me almost 6 hours from the fifth station (a trek that would have taken me a grand total of 12 hours from the bottom…) and the descent took me 2 hours (guess you could tell I rolled down, right?) The hike at the beginning was not bad…I walked through some wooded areas and the slopes were very gradual and it lasted for about 20 mins and then I saw the first fork in the road. I read the sign that said to the summit 5.5 km. I was ready to knock those small insignificant kilometers in like 3 hours summit Fujisan and descend well before 4 pm.
I started up the steeper hill and wanted to die! The hill was so deceptive! It looked so easy that I rushed into it and pretty much hit a wall not realizing that it was almost 60 degrees for what seemed like miles! I pushed through this hill and the ones that followed until I reached the sixth station at which point I noticed I had sweated through my clothes. I put on my fleece and began to push forward toward the seventh station. It didn't look too far and I was keeping pace with some little kids that were also ascending the mountain.
The trek to the seventh station took forever! It was steep; the ground was this fine volcanic ash and I slipped if I wasn't careful when I put my foot down to move forward. I pressed on through bits that were nothing but volcanic boulders and parts where the trail seemed to go straight up for no reason (I am talking at like 90 degrees!). I made it to the eighth station and I could see the summit! After a while, a sign said that I was only 900 meters from the summit and that gave me the fuel to push through arguably the most grueling 900 meters that can exist on this planet. It was straight up almost the entire way with the terrain switching from ash to rock to boulder back to ash and slippery dust. I forced myself to climb higher and kept telling myself that I had made it so far and that I only had a few more meters to go. Turns out there was another sign saying that I had only gone like 200 meters and didn't go as far as I thought I did. But I pushed all the way to the top. And I can't tell you how thrilled I was to make it and then see the beauty from the top, which was nothing but big white fluffy clouds all around me.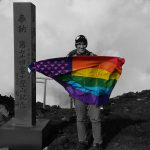 I did what all Hampden-Sydney men do when they hike a mountain: I pulled out my flag and took a picture, commemorating it as a place the community can say they proudly sent a representative to. The community that I am referring to is the LGBTQIA+ community. If you are unaware, I am a proud member of the gay community and I thought it fitting to bring with me a pride flag donated by another Hampden-Sydney man in the community, and proudly raise it at the summit.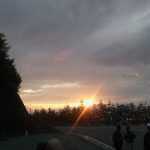 I took a couple of pictures at the summit and then basically ran back down the mountain to see the sunset at the Fuji-Subaru Line 5th Station. It was beautiful and it was probably even more beautiful at the summit…however, I had a train to catch and if I missed it, I would be out of luck until the next morning because it was the last train and the nearest hotel/hostel to me was another 4 kilometers from the train station and I was not ready to walk another 4 kilometers. Luckily I caught the last train headed to Shinjuku and made it back to my place at midnight disgustingly dirty, and hurting all over from the rugged hike. The next day I rested and relaxed my sore muscles.
The following day I decided to do some shopping because I don't know the next time I am going to be in Japan.
Finally on the 20th of July I checked out of my share house and boarded the first Shinkansen (bullet train) bound for Kyoto! What a crazy experience riding on a bullet train is. It took me three hours to traverse half of the country and it would have taken me 8 and half hours on a regular train with multiple transfers. When I arrived in Kyoto I was hit by the unbearable heat! Kyoto is surrounded by mountains on three sides and sits in valley and during the rainy season the humidity is a killer! I was unprepared to step off the train and literally be dripping in sweat.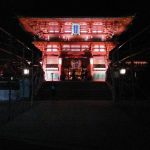 I checked into my hostel and decided to travel to Fushimi Inari Taisha, the giant fox shrine that most people consider quintessential Japan. It was a beautiful shrine and I got there right when the sun was setting at twilight and decided that it was the perfect time to see this amazing shrine. I started walking up to the main shrine and saw path leading up Mt. Inari…once again I decided to ascend a mountain but I did not bring a banner or flag or anything because it is strictly forbidden to raise a flag or banner at a shrine…it's like doing something blasphemous inside a church. But I took my time ascending and made it to the top. I hadn't seen a single person on my way up the mountain until I reached the top.
When I reached the top of the mountain, there was a rather large group of European school children on a field trip with chaperones and teachers. They were loud, which is kind of a no-no in a shrine because it is a holy site and you are supposed to be respectful to those who are worshipping the deities. I decided that I was going to pray and began to walk over to the purification basin when a boy no older than 15 took a drink of water from his water bottle and spit it out directly into the basin! The basin is filled with holy water is used to purify the hands of those wishing to worship. I was extremely upset and tried to make it as clear as possible that what he did was sacrilegious; a concerned chaperone came over and I explained the situation as best I could and then she chastised the boy.
I then walked to the shrine and saw the most appalling thing: a group of students were putting their trash on the altar and knocking off the rice offerings. This shrine is different from most of the other ones because Inari is the protector of rice yields in Japan and an offering table is in front of the shrine so that Japanese can offer a portion of their yield to ensure another successful harvest. I also tried to tell them what they were doing was wrong and they just laughed and called me some names. That's when I went down to the shrine officers at the bottom of the mountain and told them what was happening. They ran to the top with me and escorted every one of those tourists off the mountain and asked them to never return. I just want to say that even though you may not be believe in the religion of the country that you are visiting you should still be respectful toward their practices. You are a guest in their place of worship and they are allowing you to see their wonderful world. That incident made me very angry and it hurt to see that a basic sense of respect toward one another was abandoned.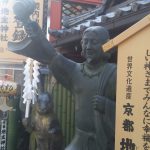 The next day I went to another shrine and to Jisu Jingu, the shrine of love. Turns out that Jisu Jingu as well as the surrounding Buddhist Temple and Pagoda are a UNESCO World Heritage site! I am not sure how many UNESCO sites I went to in Kyoto but I know that almost everywhere in Kyoto was some heritage site. Tomorrow is my last day in Kyoto and I plan on going into Gion where the Geishas linger and maybe going to the contemporary art museum to see the Kusama exhibit. After that, I head to Hiroshima for three days before traveling back to Tokyo to catch my return flight back to the states!