David Arias
London, 2017
First Entry
I'm David Arias, an international student from Colombia at H-SC, and I decided to study abroad at University College London for the fall semester of my junior year. When looking for study abroad opportunities (H-SC offers many) I kept in mind that I wanted to keep improving my English and study at a school as different as possible from what H-SC had to offer, not because I didn't like H-SC, but because I wanted to challenge myself and experience new things. UCL appeared as the perfect option because it offered me a 40,000 student population university, located in Central London, with a wide range of departments and courses I could choose from, which at the same time, was ranked among the top ten schools in the world. After a demanding application process, I was accepted at UCL last spring, and I started preparing for this great opportunity.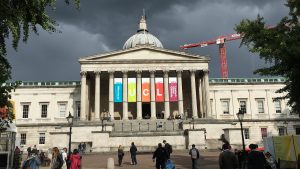 After four months of preparation, in which I worked for a while and then visited my family and friends back home, I'm finally here in London, staying at one of UCL's housing facilities, which is five minutes away walking from Buckingham Palace, and I couldn't be happier to be writing this entry. It's already time to register for courses, or how Brits call it, modules. Registering for classes at UCL is not as easy as waking up at 5:30 a.m. and registering for classes on Tigerweb using an Econ Lab computer. Here, affiliates (exchange students) have to contact the equivalent to a Department Chair and ask for available courses for affiliates and general approval before registering on Portico (the equivalent to Tigerweb) for courses. It's not been an ideal process, as I have to take a certain amount of credits in order to graduate on time but, the availability of courses, along with kindness UCL faculty and staff embody, keep me optimistic that I'll be able to take the courses I want to take and the ones that will eventually transfer to an H-SC transcript.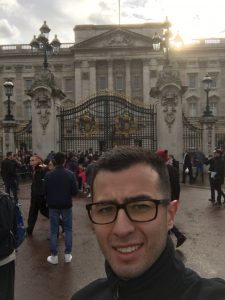 Apart from the registration process mess, I've also been able to tour the city and visit iconic places in London. Big Ben was the first one on my to-do list, and after two days of orientation with the agency that helped me in coming to London, I went to have a couple of drinks with a friend next to the Thames, at a bridge where we could appreciate the London Eye and the Big Ben at the same time. It was definitely a great feeling to realize that the period of preparation and stressful pre-departure from Colombia was finally over. And, I was now on to the exciting part of this new semester-long adventure, as the Big Ben and the London Eye were there, next to one of my closest friends, welcoming me to this great city that's got lots to offer, and that I hope I'll take advantage of through my time here. On the list, there is still a lot to do, as I have to visit Tower Bridge, the National Museums, and Buckingham Palace, not mentioning Camden Market and the different Football (soccer) Stadiums, which are really famous places here in London.