SAS 2017
Shemar Blakeney
I have learned so much on this voyage. My experience is different than what I expected in some ways because what I "thought" a country would be like was completely different; I stereotyped a country before I even visited it due to my "Single-Story Ideology." I expected to meet astonishing people along the way; however, I did not expect to meet and see so many amazing people. I stereotyped that most of the people on the ship did not have to work as hard to get here, but in actuality, everyone made some type of sacrifice to come on this trip.
I categorized Africa to only be food, wildlife, and poverty, but Africa is Extraordinary! It is everything all in one, the good and the bad. There are major cities all the way to rural countryside, so you see the extremely wealthy and the poorest poor, but Africa is an experience I wish everyone could have.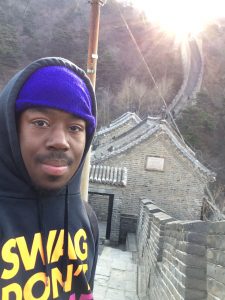 While in China, I attended an Acrobatic Show in Shanghai, and it was extraordinary. It was amazing to see so much talent and skill in a single room. For example, there were some people jumping from bicycles onto their partner's shoulders, and I saw a man on stilts do back-flips through the air and land in the middle of a target. I also saw people hanging from other peoples ankles while they were 20 plus feet in the air! Also, the food here is amazing. I would say that "Traditional Chinese Food" is all about what region of China you are in because they all have their own styles of food (like different parts of the USA are known for different foods). The Great Wall of China was breath-taking. In either direction you looked, the wall just stretches for what seems like eternity. The people in China are so friendly, and they are happy to help you if needed. It was a lot of fun having a language barrier and trying to talk to people, because everyone was laughing at how we couldn't understand each other. Yes, the language barrier can sometimes be frustrating, but if I was completely comfortable and did not experience any type of difficulties while I am on this trip, it would be a waste of time, because I am supposed to embrace this culture and opportunity fully and learn from the experience.
My general advice for future study abroad students, and travelers of all kinds, would be to go talk to all of the local people, especially the locals around your age group because they can give you the best ideal of how the country is; however, do not make their one opinion your only opinion on the country. Also, you can never have too much money; one of my coaches from high school who studied abroad in Spain said, "Whatever number you think you will need for the trip, double or even triple it." This was very true.
My experience from traveling and studying abroad has highly changed my thoughts on my place in the world and my identity. Even though I am not home yet, I would say the thing I am looking forward to the most will be to eat my mother's cooking and spending time with my friends and family. The hardest part of going home will probably be not being able to spend time with the people I have bonded with for the past 4 months. I will miss the amazing friends I have made on the ship, and the experience of waking up in a different country every other week.