David Arias Hernandez
IFSA-Butler, University College London
London, England
Fall 2017
December was the last month of this amazing opportunity to study abroad, and I really took advantage of it.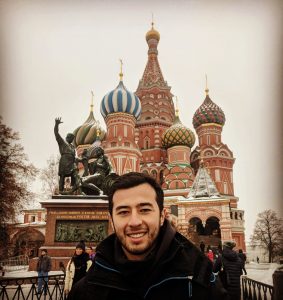 At the beginning of the month I went to Moscow, Russia, where, I was able to visit various iconic places. On the first day, I went to the Red Square, where I was able to visit The Iberian Gate, St. Basil's Cathedral, Statue of Minin and Pozharsky, Kazan Cathedral, Kremlin Wall, Lenin Mausoleum, and GUM. The ones I liked the most were St. Basil's Cathedral, Lenin Mausoleum, and the Kremlin Wall, although GUM, a Harrods-like shopping center, counted with several souvenir stores with tons of beautiful products. Clearly, St. Basil's Cathedral was the highlight of the Red Square, as its architecture would attract any tourist                                                                                      regardless of his/her origin.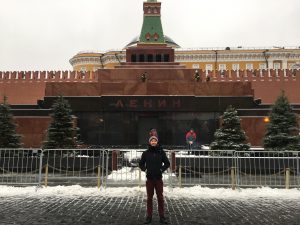 Lenin Mausoleum was also a really interesting place to visit, as it provided me with an opportunity to be incredibly close to one of the most iconic characters in world history. Nevertheless, one of the most interesting things about the Red Square, which genuinely caught my attention, was to see how some locals would dress as Stalin to charge tourists for taking pictures with them. Tourists, excluding me, would get really excited about such picture, and therefore, would pay a considerable amount ($20). On the next day, I took a tour around Moscow's metro. Moscow's metro is known for the beauty of its stations. Each station has a different architecture, and tourists, just like me, often take some time to take a tour around some of the most important stations.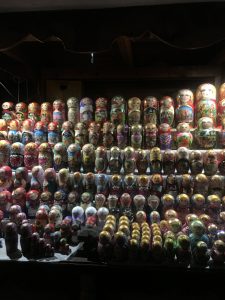 After the short metro tour, I went to a Russian market 15 minutes away from the city center, where I was able to purchase very famous souvenirs like matryoshkas and eggs. It was also really interesting to see how many of the t-shirts sold in this market had Putin's face printed on them. The president is really popular amongst citizens, and such particularity was evidenced on the merchandise sold not only at this market, but also at many other souvenir shops located in the Red Square. On that day, I also went to Gorky Park, which is the equivalent to Moscow's Central Park. The park was neatly decorated by Christmas lights, and most of it was turned into an ice skating rink. On my final day, I visited the Kremlin, where I was able to see wonderful cathedrals, the palace where Putin lives, and the Senate, apart from several sculptures from the period before the Bolshevik Revolution.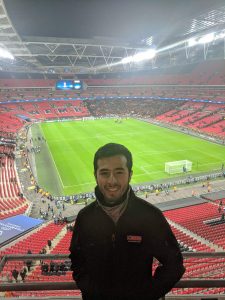 After coming back from Moscow, I was able to attend my first UEFA Champions League game. It was a wonderful experience, as I had dreamed my entire life as a kid to listen the Champions League's anthem live. The game was an easy 3-0 win for Spurs, and it was a great opportunity to visit one of the most important stadiums in football's history: Wembley Stadium.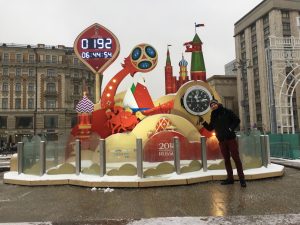 Concluding my entries, I have to say that there are many things that I will take from this amazing opportunity. It is true that I had already experienced studying abroad when I decided to leave Colombia for the U.S., but the magic of studying abroad is never lost. This period in London taught me that studying abroad is never an opportunity one can miss, and I will definitely recommend studying abroad to every H-SC student that is doubting about taking this opportunity. Experiences like the one I'm about to finish are the ones that make us grow as a person, and definitely the ones that help us becoming good men and good citizens.