David Bushhouse
Peter the Great St. Petersburg Polytechnic University 2018
I've been in St. Petersburg for less than a month, but have quickly noticed that шаверма, shaverma, is the most widespread and popular street-food in the city. In St. Petersburg, Shaverma stands are everywhere: next to every Metro Station, down nearly every alley, and in every clubbing district. Since shaverma stands are open 24 hours, it is the go-to drunk food for St. Petersburg locals, who call it 'korm,' which literally translates to "animal feed." It's unhealthy, always comes with a stomachache, and, as the locals say, will give you food poisoning every fifth time you eat it. But boy is it good.
Chicken, lamb, and goat is stacked onto a vertical spit and slowly grilled, creating a column of meat that is shaved then into smaller pieces. This method of cooking was originally developed in Ottoman Turkey in the 19th Century and quickly spread to the surrounding region, giving rise to the Turkish doner kebab, the Greek gyro, and the Arabic shawarma. Incidentally, the names of all these dishes reference the rotational grilling method—the most obvious being the Greek gyro (think gyroscope).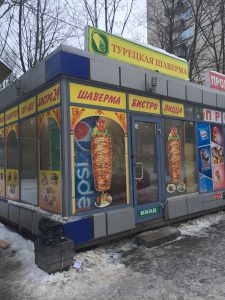 In shaverma, the shaved meat is served with tomatoes, cucumbers, onions, and a kefir-based sauce (similar to tzatziki) in a large tortilla-like Caucasian flatbread called lavash. Russian shaverma was invented by Central Asian immigrants, and is both greasier and less spicy than its distant Arabic cousin. Shaverma is cheap too! For 150–200 rubles (~3–4 dollars), depending on the stand, you can get a giant meal-sized shaverma that would cost at least 8 dollars stateside.
Shaverma stands are often run by Central Asians like Tajiks, Uzbeks, and Kazakhs—the nearest shaverma stand to my dorm, shown in the picture, is run by a Tajik family. In Russia there is a good deal of racial discrimination against Central Asian immigrants, who can often only find work in low-skill sectors of the economy. However, in the same way that Chinese restaurants enabled Chinese families to enter the middle class in the face of racial discrimination in the United States, many Central Asian families in Russia have been able to enter the middle class by opening shaverma stands.
As I mentioned before, Russian shaverma does come with an uncomfortably high risk of food poisoning. In 2016, Moscow city officials threatened to ban the sale of shawarma, and physically removed a few stands, due to the high percentage of stands that failed safety standards. The public backlash against this "Shawarmageddon," as newspapers called the crackdown, was massive, and shawarma stands in Moscow remain open for business despite the public safety concerns. The truth is that for most Russians shaverma is a guilty-pleasure food, and they simply do not care about the safety concerns; they love shaverma. And, speaking for myself and my fellow exchange students, Americans love shaverma too!