David Bushhouse
Peter the Great St. Petersburg Polytechnic University 2018
Today was the first day I saw grass in Russia. Even though we're halfway into March and celebrated the official start of spring two weeks ago, the daily temperatures here in St. Petersburg are in still the mid-twenties. Take it from me, everyone in Peter is eager to see when spring will actually arrive!
This spring is special because on Sunday, March 18th, The Russian Presidential Election will be held.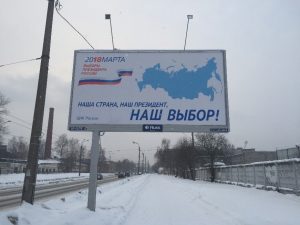 Election adverts are all over the place: bus stops, billboards, shop windows, the YouTube homepage, on the radio, and even text messages that the Russian government sent out to every single Russian cell phone. Just today I saw a flower stand covered with five identical posters advertising the election.
You can see some examples pictured at right.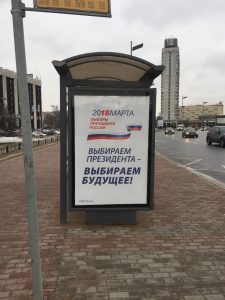 The billboard says Nasha Strana, Nash Prezident, Nash Vybor!, which means "Our Country, Our President, Our Choice!" The bus stop says Vybirayem Prezidenta—Vybirayem Budushee!, which means "We Choose the President—We Choose the Future!"
It may seem odd to Americans that the Russian government spends enormous amounts of money advertising the election, while the candidates hardly advertise at all. The reason we have the opposite arrangement is that Americans and Russians view elections in different ways. In America, everyone obsesses over presidential elections: they consume every news story, fill every personal conversation, and are unavoidably touchy subjects at Thanksgiving dinners. In Russia, things are quite different. Even though the election is just days away, no one is eagerly awaiting election results; everyone knows that Putin is going to win, and most people will not bother to vote.
It's not the Russians are so disheartened by the Putin regime that they think voting is useless. In fact, most Russians want Putin to win, but the lack of competitive alternative candidates and the massive public support for Putin makes most people think that voting is a waste of time. One professor of mine told our class that "Why would I vote? I know Putin will win, of course, so I will stay at home."
However, there are also many Russians who will deliberately boycott the elections on Sunday. These are supporters of Alexei Navalny, the Russian opposition leader and primary opponent of Vladimir Putin, who has been banned from running for president because of felony charges against him. Navalny supporters insist that the trumped-up charges against Navalny are politically motivated, and that the election is sure to be rigged. These supporters held large protests in over a hundred Russian cities in late January to call for an election boycott; they are also likely to hold reactionary protests after the election.
I will be in Moscow for the election, and am really looking forward to the experience. After that, I will be flying to Tbilisi, Georgia—where daily highs are in the mid-sixties—for my spring break.