Nate Dracon
Charles University 2018
Hello again from Praha!
It's been almost two months now since I left the states. Everything seems to be going well, and I have finally started to travel to places that are outside the Czech Republic.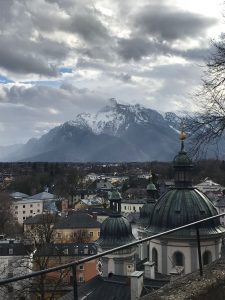 St. Patrick's Day is not a very big holiday in Europe. From what I have seen, the partying and drinking is an American construct. That weekend I decided to visit a friend in Salzburg, Austria. First thing I noticed was how cordial the people were, and more advanced the country was verses the Czech Republic. That being said, everything was much more expensive.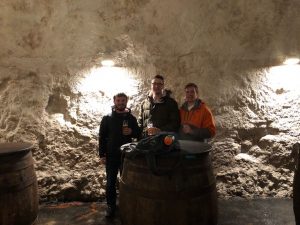 The week after that, Blake Martin and Zach Wiggin came to visit me since they were studying in Dublin, Ireland. For the first time, I went to see Prague Castle and St. Vitus Cathedral. We saw the actual window where the third defenestration of Prague took place, which started the 30 Years War. I was able to show them around the city, and for a day trip, we went to Pilsen. The pride and joy of the Czech Republic is the invention of Pilsner and their award-winning beer, Pilsner Urquell. We toured the town, which like almost all European cities, has a large square with a cathedral in the middle. Pilsen is also home to the third largest synagogue in the world, Great Synagogue. We also toured the city's massive underground, where people created pubs to avoid drinking laws in the 15th century.
This week is Easter, which is a much bigger deal in central Europe than in America. No, they do not believe in the Easter Bunny, but have much better traditions in my opinion. Prague, being a large city with western influences, does not participate in many of these traditions. Instead, the city sets up large Easter Markets for the weeks leading up to Easter. In villages, people walk around to their neighbors' houses where the men receive shots, and the women collect chocolate Easter Eggs. Additionally, Easter Whips are created by weaving small twigs together. These whips, are used by men to tap women, to promote fertility during the whole next year.
My parents are coming this weekend, and I am excited to go to Dresden, Germany and Vienna, Austria with them.