David Bushhouse
Peter the Great St. Petersburg Polytechnic University 2018
Only two weeks of my Russian study-abroad experience remain, and I would be lying if I said I wasn't missing home. I miss my family, my bed, and of course the rolling hills of Central Virginia. I miss the giant oaks and the fresh air and the rural night sky. Like any city, St. Petersburg is far from nature, covered in concrete, and shrouded in smog and light pollution (plenty of regular pollution too!).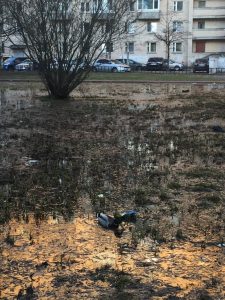 Some animals have learned to tough it out in the city. Pigeons and seagulls are ubiquitous, and every night I fall asleep to the sound of stray cats fighting outside of my window. Some brave ducks appear every time a downpour floods a shallow field in the dvor, the central courtyard of the apartment complex. Even so, these slivers of nature are mostly sad: the pigeons are fat from the low nutrient bread diet that babushkas feed them, the seagulls are much the same (only meaner), and the ducks paddle through muddy water full of plastic bags and cigarette butts. At right you can see these ducks trying to eat actual garbage. Still, in my travels I have been surprised and delighted by a couple encounters with nature in St. Petersburg and abroad.
We'll start abroad. Two weeks ago, I travelled to Helsinki for the weekend, and thoroughly enjoyed exploring the coast of the Finnish Gulf—Finski Zaliv in Russian—while touring the Suomenlinna Sea Fortress, a UNESCO World Heritage site. The granite boulders lying in the cold, clean water led up to patches of stubby grasses and small trees and bushes capable of braving the Finnish winter. A variety of seabirds paddled through the shallows and perched on rocks to preen themselves. I even saw a swan doing a weird neck dance that looked very silly. After months in a big city, that afternoon I felt like weeks of heaviness and mundanity had been lifted. I felt refreshed.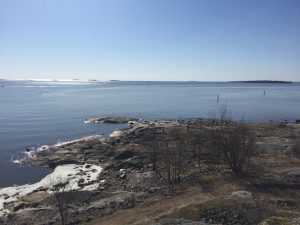 Then, just last week, I discovered a park not far from my apartment complex. I live northwest of the city center, in a spalnaya raiyon—which means "sleeping district"—inhabited mostly by commuters and retirees. Sleeping districts make up most of the area of St. Petersburg, and they all look about the same: rows and rows of identical, soul-crushing soviet apartment buildings interspersed with grocery stores, bakeries, and shaverma stands, of course. Don't get me wrong—after a while the brutalist architecture and industrial wasteland becomes almost charming. Just a few days ago some friends and I noted how an abandoned electrical substation next to the institute where we study, with its massive rusted machinery and otherworldly aura, makes us feel oddly at home whenever we see it.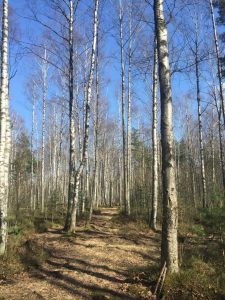 But despite these charms, I was overjoyed when I discovered Sosnovka Park just a few blocks south of my apartment complex. At nearly 750 acres, the park is massive, and most of those acres are covered with birch forest and meandering trails that cut between wider gravel pathways. These trails (one can be seen at right) are perfect for working up a sweat and getting a little muddy. Small ponds sans the garbage dot the eastern border of the park, and in the forest I can hear the chirping of songbirds, the rustle of small rodents and hedgehogs in the dry leaves on the ground, and the drumming of an occasional woodpecker. Make no mistake—it isn't Eden. Still, it means a lot to find little bits of nature in the middle of the concrete jungle.