David Bushhouse
Peter the Great St. Petersburg Polytechnic University 2018
I fly home from St. Petersburg today! And while I have really missed America—the English language, the following of traffic laws, the common courtesy of wearing deodorant—I thought I would write about how America is unavoidable while abroad. While most Americans have never thought of traveling to Russia, many American brands have; from food to movies to clothing, American products are unavoidable in Russia.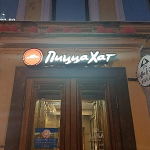 American fast food dominates every food court and touristy street corner of downtown St. Petersburg.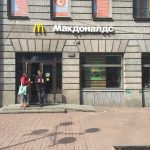 There are plenty of Russian chains as well, but I thought it would be neat for you all to see what American logos look like in Russian; no matter how many times I see a familiar logo in Cyrillic, it always strikes me as a little odd.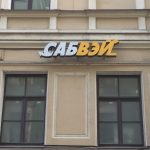 Even if you have not learned the Cyrillic script, I bet you can guess which restaurant is in each picture.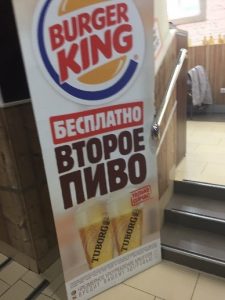 One interesting fact: most fast food chains in Russia sell beer. Here you can see banner advert in a Burger King advertising a "besplatna vtopoy pivo," a "free second beer." At first I was taken aback whenever I, walking through a mall food court, would see people eating McDonalds with beers out on the table—something you would never see in America—but now I think I've grown accustomed. The Russian attitudes toward drinking, despite stereotypes, are much more accepting of casual drinking and much more critical of binge drinking than those in America.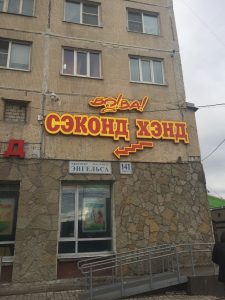 But the influence of American culture on Russian culture goes further than fast food. I often stumble across English words in the strangest of places. For example, there is a thrift store near my apartment in the northwest region of St. Petersburg literally called "sekond khend," a mere transliteration of "second-hand." This is just down the street from a large desert-themed shopping center called "Grahnd Kanion," a mere transliteration of "Grand Canyon."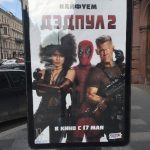 And then there's movies. Around 4/5 of the movies screened in Russian theaters are from Hollywood—dubbed in Russian—and Russian teenagers are probably more obsessed with the Marvel Universe than American teenagers. Once I was walking down the street with Tanya, a Russian friend of mine, when suddenly she pulled me aside to say "I can't wait for Deadpool II come out!" At right is a photo of the Russian advertisement she saw on the street.
I have had a tremendous time in Russia, and hope to return some day. In my semester I learned an unbelievable amount of language, tried all the traditional Russian foods, and made some unforgettable memories and even more unforgettable friends. If you're thinking of studying abroad in Russia, and up for an adventure, I would really encourage you to go for it!