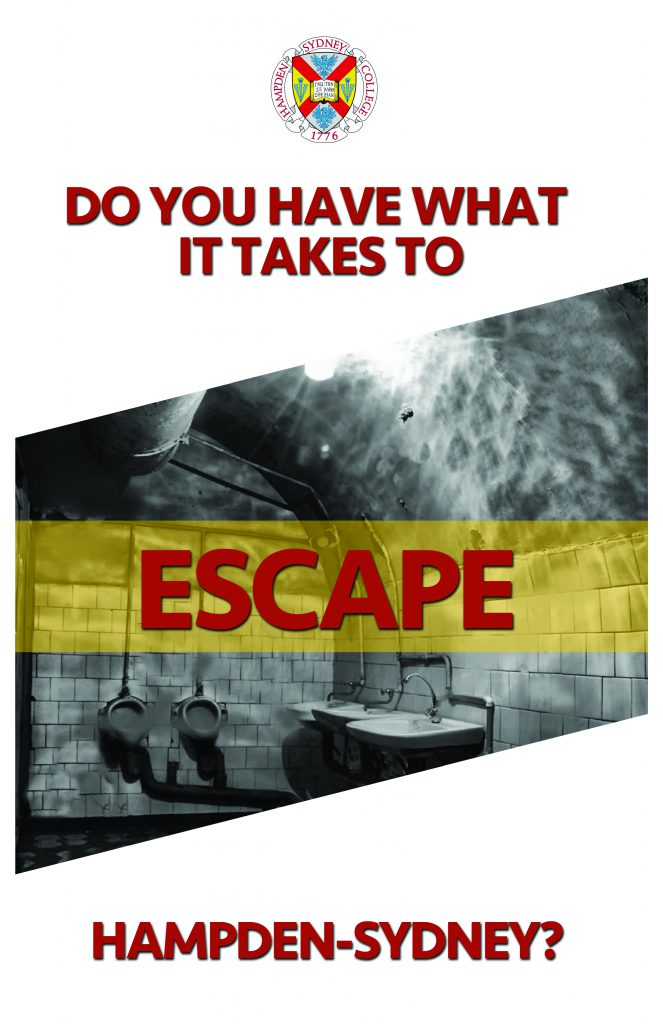 Escape HSC is a traditional escape room. Teams of 4 persons cooperate to solve puzzles within a limited amount of time to 'solve' the room. Some escape rooms are about escaping – others are about accomplishing other tasks (solving a mystery, stealing a jewel, more!)
Located in the basement of Bortz Library, it is open to anyone aged 14 and up. All proceeds go to the Philosophy Capstone Fund and are a charitable donation to Hampden-Sydney College. Fees are $10 per HSC student and $20 for all others.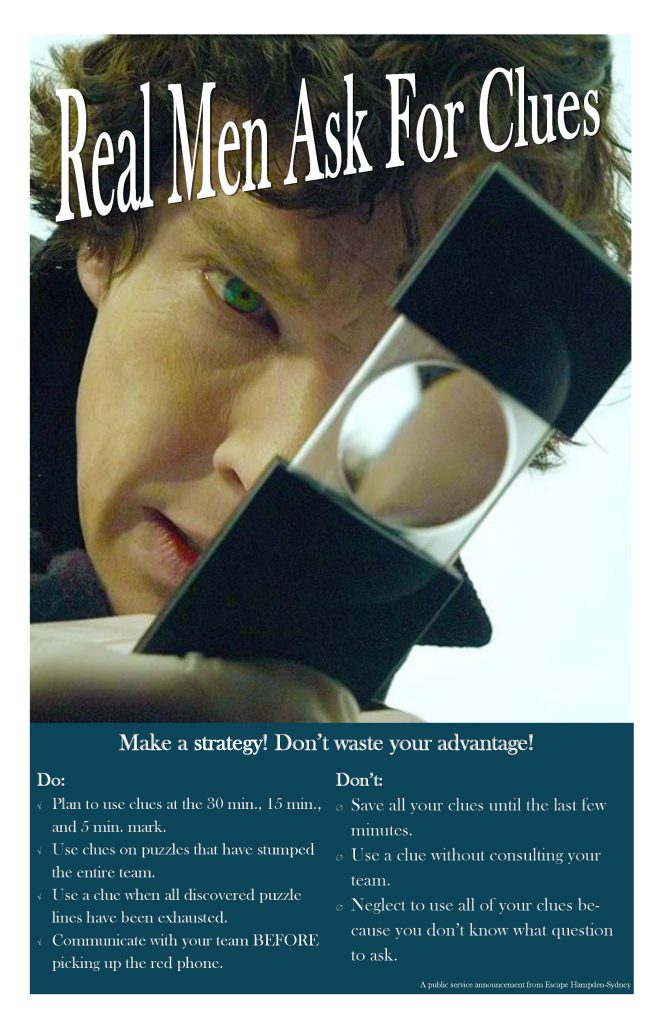 1st place: Team Expert Detectives
Time: Stage I: 20:58
Watson Grabar, Matthew Miscikowski, Carson Heffernan, and Jelan Powell
2nd place: Team JKA
Time: Stage I: 00:01
Jack Whelahan, Aaron Allen, Ansen Lackner, and Charles Kageleiry
3rd place:

Frequently asked questions
Do I need to bring anything? Answer: All you need to bring is the donation fee (in cash or check payable to HSC with "Escape Room" in the memo line). $10 per HSC student and $20 for everyone else, per person. Do not bring food, drink, or other materials. All the proceeds go to the College.
I am not good at puzzles. Why should I play? Answer: Escape rooms have a variety of 'puzzles'–including some that just involve looking and paying attention. The goal is to enjoy yourself with your team.
What if my team runs out of time? Answer: That is ok, the room has a scoring system and you might still be top team! And we promise to let you out.
Where do I go? Answer: The basement of Bortz Library at the end of the long hallway opposite the Computing Center.
How long does it take? Answer: A run is typically an hour, plus 10-15 minutes of preparation. Most teams like to spend a bit of time 'deconstructing' the run, so allow a bit of time afterwards as well, or a total of about 90 minutes.
What if I get stuck? Answer: There is a hint system in place to help your team. Effective teams ask for clues when they need to do so! (See Sherlock to your left…) Rely on your team as well to help you through.
When can I run the room? Answer: Anytime the library is open and an Escape HSC team member is available to supervise the run, including some evenings and weekends.
Can my friend/relative/etc. run the room too? Answer: Yes! The room is open to everyone aged 14 and above.
How do I book a time slot to run the room? Answer: Contact Prof. Marc Hight by email or complete the sign-up form to your left on this webpage.
How long has Escape HSC been open? Is it any good? Answer: The room first opened in 2017 and we've been told that it is excellent, including by experience escape room aficionados.