by Thomas O. Robbins '04
(Thom Robbins in front of Tom Tower at Christ Church, Oxford)
For almost a millennium, the University of Oxford has offered an unsurpassed education to students from around the world. For six weeks, eight Hampden-Sydney students (Will Albright, Mack Crockett, Dave McDonald, Preston Pittman, Thom Robbins, Mike Roberts, Teelo Rutledge, and Larry Wilkes) made their home in "The City of Spires" as part of the Virginia Program at Oxford. The Virginia Program at Oxford (VPO) is an intercollegiate summer program comprised of students from Hampden-Sydney and five other Virginia colleges and is the oldest of its kind at the University. While students are selected from different American universities, they lived at St. Anne's College and studied Tudor-Stuart History and Literature on the British tutorial system.
Students began their academic endeavor with a visit to the Bodleian Library to become readers. The Bodleian Library is one of the most photographed architectural structures of the University, and its majestic interior is quite conducive for reading. Thus, the process to become a reader is extensive and requires one to swear an oath that he will not remove books from the library or light a fire in the library. Visitors are not allowed to venture beyond the front door without a reader's card, so it is a privilege to be admitted. With the amount of weekly reading assigned, daily reading and studying were obligatory. Lectures were held each morning for an hour and followed by coffee and tea with biscuits (cookies to us Americans!). Tea time allowed students to talk with lecturers and ask questions. Questions and discourse were important because, in many cases, the lecturers had written the assigned books and articles. Lecturers included such prominent researchers and historians such as Dr. Christopher Haigh, fellow of Christ Church; Professor Peter Lake, Princeton University; and Professor Conrad Russell who is a hereditary peer and active member of the House of Lords. As well, lecturers did not shy away from critiquing another lecturer's ideas, but the diversity in perspectives was helpful in forming a solid background on a particular topic.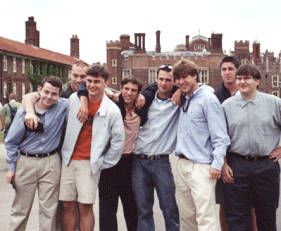 (H-SC Students in Front of Hampton Court Palace. (left to right) Thom Robbins '04, Teelo Rutledge '04, Preston Pittman '05, Larry Wilkes '05, Dave McDonald '05, Will Albright '05, Mike Roberts '05, and Mack Crockett '04.)
After a week of lectures and mass amounts of reading, tutorials culminated the week's events. Tutorials, composed of three students and the tutor, were held separately for English and history. Like our lecturers, our tutors were Oxford dons and experts in Tudor-Stuart History and English; therefore, careful and thorough preparation was critical to performing well in these sessions. Although most tutorials were conducted on premises at St. Anne's, others were held at nearby St. John's College, which dates back to the 1500s. Unlike typical American classes, tutorials are a very personal and in-depth analysis of the ideas regarding a particular topic. Students read their papers aloud, and they are questioned on their ideas or the particular analysis of the thoughts presented. At times, the tutorials can feel overwhelming, but good criticism in the free exchange of ideas makes us better thinkers and writers.
While each week was laden with studying and reading, there was considerable academic freedom to plan one's own schedule. Students held to the Hampden-Sydney dictum: Work Hard, Play Hard. The vibrant social life of Oxford revolves around the pubs and clubs, which is typical in England. Moreover, there are a variety of pubs to visit ranging from new pubs to more historic pubs like the Turf Tavern. For over a century, the Turf has provided good English Ale and a locale for social gathering with its motto, "An Education in Intoxication." Similarly, The Eagle and Child was the famous hangout of J.R.R. Tolkein. Pubs are a necessary part of a true Oxford experience.
In addition, group activities were organized to immerse students in the Oxford and England experience. At the nearby University Park, some students tried their hand at Cricket or participated in the group sponsored Pimm's and Croquet party. Pimm's is a traditional summer drink served with fruit and cucumber – quite interesting! With an unusually warm summer, passing the evening away punting and sipping champagne was also a common escape. Academic excursions were planned to the Globe Theater in London and Royal Shakespeare Company in Stratford-on-Avon to see Cymbeline, Richard III, and The Tamer Tamed. As one might imagine, theater productions were the perfect complement to the academic curriculum. Other excursions included a visit to Hampton Court Palace and the home of William Shakespeare. Many students took advantage of their time in England to make day trips to historic sites like Windsor Castle, Stonehenge, Buckingham Palace, and Blenheim Palace. As many students found, weekends were an ideal time for more extensive travel throughout the British Isles and Europe. While Scotland, Wales, and Paris seem to be the most popular destinations, some students found time to make trips to Venice, Normandy, and even Barcelona.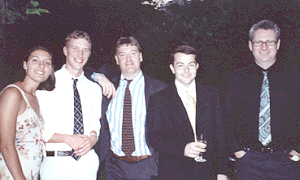 Throughout their time at Oxford, students read immensely, questioned profusely, experienced the social appeal of pubs, traveled, and found new friends.  They left "The City of Spires"  with fond memories. Students interested in the Virginia Program at Oxford should contact Professor Shirley Kagan in the Department of Fine Arts.
(Tutors Pose with their Students at the Final Party. (left to right) Alexis Thompson of Roanoke College, Mike McLauglin of VMI, Glyn Redworth, History Tutor, Tom Robbins, and Frank Romany, English Tutor and Lecturer at St. John's College, Oxford)