by G. W. Zuban '05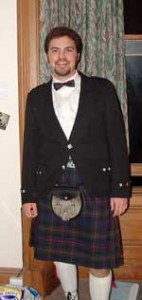 As the new school year opens, I would like to share some of my experiences of last semester spent at the University of St. Andrews in beautiful St. Andrews, Scotland.  As a brief history of the University, it was founded in the early fifteenth century to keep the sons of Scottish nobles from being captured by the English during wartime. In modern times, the University is in the middle of St. Andrews, flanked by the world famous home golf course and surrounded by the North Sea.  While the town is modern, it is also rife with mediaeval charm.  There is a castle destroyed by the Scottish Reformation, along with the remains of a massive cathedral also destroyed during the Reformation.  The remains of both of these buildings were as awe inspiring today as they must have been while they existed in their entirety.
Arriving at St. Andrews was very simple indeed.  After flying into the Edinburgh Airport, which is about the size of Richmond International Airport, I was able to quickly locate the Overseas Society, who had arranged to corral the international students from the airport to St. Andrews.  We quickly boarded a bus and headed out on the hour drive to St. Andrews.  Of course, students from around the United States started chatting and mentioning where we went to school.  Actually, I was quickly asked if I knew Meade Stone, as he was a friend of one of the girls on the bus.  Even though we go to a small school, Hampden-Sydney and her students are remarkably known.  After the bus ride was over, I was taken to Andrew Melville Hall, my residence for the remainder of the Semester.  Melville is an oddly designed building; however, it would serve me well as home.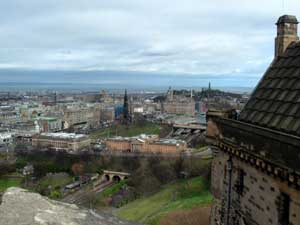 Before classes started, the Overseas Society held many activities to familiarize us with St. Andrews and surrounding towns, Edinburgh, and with the nuances of Scottish culture.  My favorite activity was a group trip to Edinburgh.  We were taken to the castle, which sits prominently above the city.  This was also a time to establish stronger relationships with fellow "JSAs"as we were called.  That stands for "Junior Semester Abroad", as opposed to "JYAs", or "Junior Year Abroad."  The trip lasted the entire day and was absolutely incredible.  The following few days were filled with trips to Anstruther (right), Pittenweem, and Crail.  These three small fishing towns were situated along the coast just north of St. Andrews.  They were absolutely beautiful and made for a great trip.
While I would have loved to be in Scotland simply for travel, there was also the academic aspect of my trip to address.  Lower level classes (first and second year) are normally large lectures accompanied with a smaller tutorial.  Upper level classes are normally smaller and more like classes in the U.S.  I took three history classes, which were very challenging.  The classes were paper based, without any tests during the semester.  There was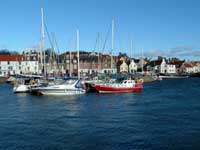 surprisingly few assessments during the semester except for the papers.  The majority of final grades were determined by final exams, which were as stressful as final exams are anywhere.  Professors at St. Andrews were very nice and approachable much like Hampden-Sydney.  I never had a problem getting questions answered and contacting professors.  The only real difference that I noticed was that questions were never asked during lecture.  All questions were to wait for the tutorial.  I found this problematic, as it may be a different professor teaching the tutorial as was lecturing.  However, classes were good for the most part and very informative indeed.
Perhaps the most enriching aspect of studying abroad is the people from around the globe that quickly become close friends.  I have no doubt that these friends will remain close for the rest of my life.  We all struggled as students together, some far from home, to be successful at school as well as have a good time. While it was easy to relate to fellow Americans, the most fun was had with people from all corners of the globe.  National identity became secondary, as having a good time or studying became the primary goal.  One of my favorite trips that I took with my new friends (both of whom, in this instance, happened to be American?the others could not go due to exams) was a thirty-five mile hiking trip on the West Highland Way.  We hiked over Ben Lomond, which is the geographic feature noting the start of the Highlands.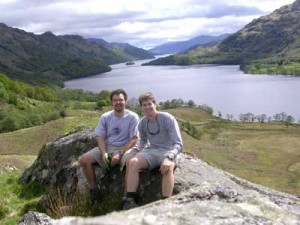 G. W. Zuban (H-SC '05) and Justin Burger (Bowdoin College' 05) above Loch Lomond
Hiking around Loch Lomond with my two friends made my trip complete.  We were able to talk about our different experiences at home, at our respective American schools, and as a JSA is Scotland. I think I can speak for the three of us in saying that we all had an amazing time both on the backpacking trip and as students at St. Andrews.
As all good things must come to an end, so too did my adventures in Scotland.  I must admit that it was hard saying numerous goodbyes, getting in a Taxi and speeding away to the airport.  I know that I will never see some of these people again, yet I know that we will never forget our time at St. Andrews.  As I return to the Hill this year, I know that I have grown as a person and a student having studied abroad. I would not, even if I could, change my time in Scotland, and I know that it was one of my best decisions as a student to study abroad in St. Andrews.