by Wesley Sholtes '05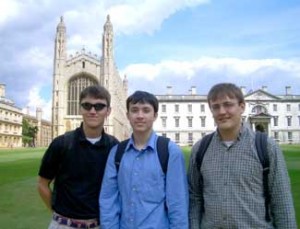 (left to right – Brandon Chiesa '05. J.B. Billings '05, Wesley Sholtes '05 at Kings Collge)
This year's Virginia Program at Oxford, which brought together 32 students from six small schools in Virginia, including Hampden-Sydney, Sweetbriar, Mary Baldwin, VMI, Washington & Lee, and Roanoke, proved an extremely formative experience for seven Hampden-Sydney students this summer. Through the rigorous tutorial-style system employed by the professors involved in this six- week program at St. Anne's College, students had the opportunity to master many of the skills that Hampden-Sydney's own liberal arts education emphasizes, including those of critical thinking, oral argumentation, writing skills, and independent research.
The Hampden-Sydney men participating in the program, which took a focused approach to studying English Literature and History in the Tudor-Stuart Era through the heavy reading and synthesis of ideas in essay form, stood out from among other the participants from other schools in their ability to ask insightful questions following lectures and to take the lead during tutorials. The Oxford environment, which involved nearly daily exposure to renowned historians and intellectuals in the Oxford community, was the perfect place for students to find personal fulfillment both on an academic and social level.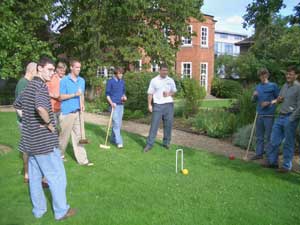 Moreover, with so much free time on the schedule, students were able to carry on a social lifestyle perhaps atypical from that found at home. In addition to the occasional game of croquet accompanied by pitchers of Pimms to be consumed as rapidly as possible, students on the program notoriously visited pubs and clubs in order to immerse themselves in English culture. A party night might involve staying at the pubs until they closed at 11 PM, then going out to the clubs until about 2 AM, followed by a visit to the Doner Kebab truck stand located right outside the college. Students bemoaned the later absence of Ali, who operated the closest kebab stand, when he reportedly took a trip to Morocco.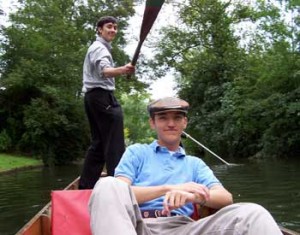 Since most weekends were entirely free, many students went on day trips to nearby cities, including London, Bath, and Cambridge, among others. Some Hampden-Sydney students even went on a few outings with the director of the program, Ken Fincham, and his family, who went punting (a sport involving a boat called a punt and a long pole), played cricket, and even drove a few of us out to see the Great Hampden and other famous sites connected to the revolutionary parliamentarian for which our college was named, John Hampden. And all of the students got to see Shakespeare's Measure for Measure in the one-of-a-kind Globe Theater and his Hamlet and Romeo and Juliet in Stratford-upon-Avon, where Shakespeare was born.
Most of the students on the program noticed that their study skills and work ethic were switched on more than usual, especially when they went to the Bodleian Library, the famous research library with its amazing architectural design, that is available to all of Oxford's colleges. Oxford's work-hard, play-hard atmosphere brings out the best of what students already have—their talents.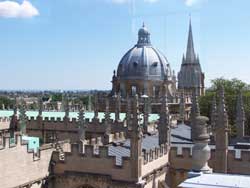 For students considering a summer abroad, this program cannot be beaten. As a veteran of three summer study abroad programs (and I also highly recommend the program to Alcala-de-Henares, Spain), I honestly believe that I have grown more as a person this summer than I ever have grown in my whole life. In the paraphrased words of Dr. Glyn Redworth, a historian who was one of my tutors on the program, it's highly probable that you will take away from the program a sense of who you are, what you are, why you believe what you believe, and why your personal identity is so complex, also realizing that the world is not so black and white as it might have seemed.