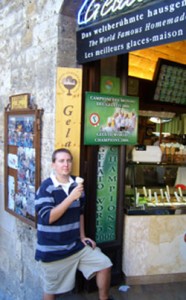 by Phil Miskovic '08
Ciao from Firenze, the city of fine wine, gourmet food, and artistic masterpieces. My semester abroad began in mid August with a three day trip to Rome touring some of the famous sights, the Coliseum, Trevi Fountain, and the Vatican to name just a few.  Next came orientation in Lido di Camaiore, a small town on the coast of northern Tuscany.  Our time was spent in a three-hour, daily intensive language course, followed by relaxing on the private beaches, sipping cappuccini in small trattorie, and visiting nearby Pisa with its leaning tower; Lucca, the birthplace of Puccini; and the Alpuan Alps, where Michelangelo got his marble. Nights were full of pubs, discotecas, and mixing with the local residents.
A week into September, we arrived at our apartments in Florence. I live with four other guys in a four-bedroom apartment equipped with 1½ bathrooms, a kitchen, and an amazing view of the city.  Situated only blocks away from the Ponte Vecchio, my current home is within a 20-minute walk of anywhere in the city.
Classes are held both in a 17th century building and on site. We spend the rest of the day touring museums and churches, watching street artists and performers, exploring outdoor markets, attending wine tastings, cooking classes, concerts and soccer games, and planning for weekend travel. Wednesdays I volunteer through Ars et Fides giving tours of Florence's Duomo, the Catedral de Santa Maria del Fiore, the 4th largest church in Europe.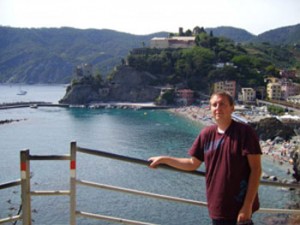 On weekends I travel both inside and outside of Italy. Most recently I've been to Assisi, birthplace of St. Francis; Asti, home of spumanti (Italian champagne); San Damiano, a small town where my great-grandfather lived; Torino, host of the 2006 Winter Olympics and home to one of Christianity's most famous relics, the Shroud of Turin, and Cinque Terra, an area of five towns on the Tuscan coast with crystal clear water and rocky beaches, all connected by mountainous vineyards. In the coming weeks, I plan to go to Pompeii, Amsterdam, Venice, the UK for a week long break, and various wineries in the Tuscan region. Following the program, I'll be spending the few weeks before Christmas in Paris, Germany, Vienna, Krakow, Athens, and Sicily.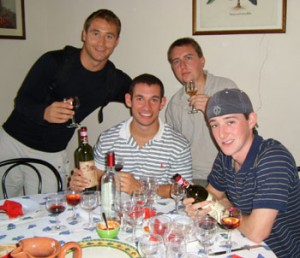 While coming to Italy has always been a dream of mine, I never thought I would get this opportunity until I went to H-SC's Study Abroad Office. There I discovered multiple options, all of which are less than the cost of a semester at H-SC. Add in the fact that with endorsed programs financial aid transfers, this was a once-in-a-lifetime opportunity that I could not pass up. While I do miss things like football games, Homecoming, and trips to VT and JMU, the experiences I have had in Italy and the people I have met make up for it. I would recommend that everyone look into a study abroad experience and take advantage of what the College and the world have to offer.
Arreviderci.