by Scott T. Jefferson '10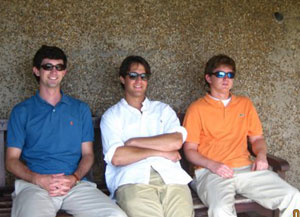 During the months of June and August of the summer of 2009, Christian A. Caiazzo '10, Scott T. Jefferson '10, and Scott R. Ouzts '11 attended the London School of Economics for an intensive summer school program commonly recognized as one of the most rigorous and culturally diverse in the world.  The program is known for attracting students, professors, and even accomplished businessmen from every part of the globe.  Somewhere in the mix were the three Hampden-Sydney students, each one of them in for a unique experience beyond The Hill.
The program consists of approximately 3,500 students.  An extensive range of courses is offered, covering the breadth of the social science expertise that LSE has to offer. Courses range from traditional core economics, accounting, and finance subjects to politics and management theory and practice.  The program has been operating for 20 years, each year more competitive and more culturally diverse than the last.
Scott Jefferson '10 commented on the diversity of the university, "Being from the Northern Virginia area, I have experienced a great deal of diversity in my lifetime, but not nearly as much as I experienced in my short time at the London School of Economics.  For example, I made friends with students and businessmen from Columbia, Denmark, France, Brazil, Madagascar, Russia, Norway, and many more. These people made for a fun, international experience both in and out of the classroom."
Christian Caiazzo '10 took a course on financial markets, which covered everything from the organization of financial markets to risk evaluation and investment strategy.  Christian said, "After sitting through hours of class everyday with numerous students from Ivy League and countless other top-tier institutions from around the world, I have never been more confident in the quality of a Hampden-Sydney education.  When I found I could not understand a concept or work out a problem, I would look around and notice that I was not alone; we were all on the same level despite our different educational backgrounds."
On the weekends, the H-SC students were able to escape the crowded city of London to experience everything from the southern beaches to the western countryside. One weekend they were even able to meet fellow Hampden-Sydney students studying at St. Anne's College in the Virginia Program at Oxford.  During breaks between lecture and class, the students also found the time to explore the many great destinations of London such as Parliament, Buckingham Palace, the National Gallery, the Tower of London, and more.
The three students offered the following advice: one of the most quintessential aspects of liberal arts education is a strong international exposure.  If you are even considering studying abroad, we strongly recommend talking with Mary Cooper, Director of International Studies.  You may also find it helpful to talk with people you know who have studied abroad.  Students who have studied abroad are generally more than willing to share their stories.  Also consider looking into summer programs, these allow you to gain the experience without feeling as if you have missed out on an ever-eventful semester at Sydney.