Hello everybody, it's Taylor S. Anctil reporting from Provence, France. I chose to come to France because I thought it was high time I took my study of the French culture and language seriously. I chose the IAU College program because it offered several courses that would contribute to my major and because I would be residing with a French family.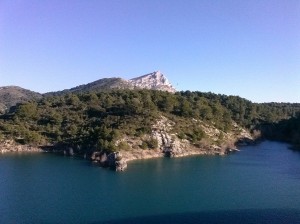 During my time in France, I am most especially looking forward to exploring all of the nearby villages. I already have my bus pass and my travel companion, therefore I shall be reporting back soon with inside knowledge of all the neat spots to visit and out-of-the-way places.
There is really not all that much that I am nervous about. My rather gung ho personality and way of facing the world leave little time to think and get nervous about the experience itself. If I had to choose something, I would say that I am most nervous about my inability to speak with French women—my inability to speak French fluently, that is. I can communicate well enough with my host family and my teachers, but as soon as I go into a store or café, I get so flustered and mixed up that you can hardly get two coherent sentences out of me! The girls are just so pretty and speak so quickly that I hardly know on which to place my concentration: the girls or the language.
I mentioned earlier, my goals are to study the French culture, learn the language, eat, drink, and be as merry as possible (and squeeze a few classes in as well). I want to be so comfortable by the end of my stay here that I am mistaken for a local—that would be the best goal to achieve.