William Imeson (Valencia, January 16)
I have now been in Valencia for almost a week and it is already far more than I could have ever anticipated. As I prepared for the trip, I wasn't quite sure what to expect, other than the basic cultural differences that come with visiting another country. I knew that I would be taking some classes with my program and that I would be with other students my age. I knew that Valencia has two official languages: Spanish and Valencian. I knew that people in Spain eat different kinds of food at different times of the day. But aside from these basic understandings, I really don't have any preset notions of what my semester here would be like. I will just let my experience in Spain and with my study abroad program play out and see where it takes me.
I always knew that if I studied abroad, I would want to go to a Spanish speaking country. I have studied Spanish for about eight years, and I wanted to be able to put that practice to good use. For the record, I don't speak Valencian at all, but it isn't too terribly different from Spanish if you can make a few educated guesses at words that are similar to Spanish. I chose to travel to Spain because there are a lot of good study abroad programs for this country and because I wanted to return to Europe. I went to Europe as a child and I felt compelled to go back. I eventually decided on the University of Virginia Hispanic Studies Program at Valencia because it is a language-intensive program and I heard positive reviews about it from previous students in this program.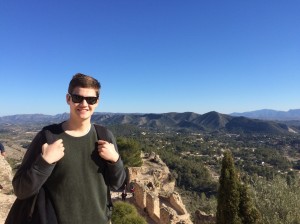 The two things I look forward to most are travelling around Spain and improving my Spanish. I sometimes forget that the United States is still an infant compared to these ancient European countries. Spain has been around for so long and history can be seen all around the country. There's something intriguing about walking around an old city and feeling its age beneath your shoes (side note: I also don't mind that Valencia averages about 65° Fahrenheit during the day in winter). Although I would certainly enjoy learning some Valencian, I don't know if I will be here long enough to pack two languages into my brain. The first couple of days have been a jet-lag induced whirlwind, but now that I have been here for a while, I have started to acclimate and will start my classes soon. While I wouldn't say that I'm dying for them to start, I'm sure it will be nice to finally get out of Morton and Bagby.