I have been in Valencia for a little over a month now and it's finally beginning to feel almost normal. The initial shock of waking up in the mornings and realizing that I'm halfway around the world has worn off, and now I've settled into a fairly standard weekly routine. I have classes from Monday through Thursday, and these three day weekends are fantastic. The UVA center here offers 90-minute Spanish classes twice a week that feel pretty similar to the classes at HSC.
Each morning, I have three options for travel to get to class. I can walk, take the bus, or ride a bike. Valencia has a system called Valenbisi, which allows people with a pass to rent a bike for half an hour. There are over one hundred in the city, so after I bought my pass, I can ride these around Valencia freely as long as I return it before the time expires. This is my main method of transportation. I live about forty walking minutes from the school, but the bike cuts that time in half. I bike to school through Turia River, which is a huge park system that goes through the middle of the city and is one of my favorite places in Valencia. It used to be an actual river, but it kept overflowing and damaging the surrounding area. The city diverted the water and turned the riverbed into a long park, filled with palm trees, grass, and flowers. I live pretty close to Turia and it's a good short cut to get to school. Turia River has several skate parks, soccer and rugby fields, and is always full of people biking, jogging, and walking.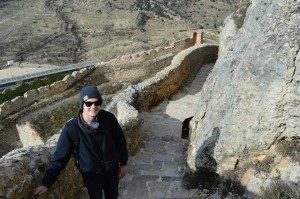 I live in an apartment in the middle of the city with my host mother and one of her sons, who happens to be my age. It's actually a pretty large apartment and we have plenty of space. The apartment is long and narrow, and has a nice living room that overlooks the street. Unfortunately, carpeting isn't big in this country and the floor is easily the coldest tile my bare feet have ever rested on. Luckily, my host mother gifted me a pair of Homer Simpson slippers. The Simpsons are pretty popular here, but it's a huge shock to the ears to watch it on television and hear the iconic voices dubbed over in Spanish.
I wake up every morning and eat a light breakfast while my host mother packs me a sandwich to take to school. I come back around two o'clock in the afternoon for a larger meal and finish off the day with a big dinner around nine at night. It's a bit of a strange schedule to me, but it's not too hard to transition into. Not a single meal passes where I don't eat an absurd amount of bread. I'd say that my diet here consists mostly of bread and meats, which I don't have a problem with.
Overall, I've had a great first month in Valencia! I look forward to what my next three months will bring!