June 28
Today marks a month since we have been in the beautiful country of Germany. We are now wrapping up the semester with final projects, oral exams, and our final written exams in the coming week. Since my last blog the students have done quite a bit here in Münster. As I mentioned in the last post, some of the students were invited to an Opera at the Münster Theater where we were able to watch a French Opera adapted to the German language. It was a very interesting tale told by singers with extremely beautiful voices. We also visited the LWL- Arts and Culture Museum of Münster where were able to see contemporary art all the way up to modern art, some of which were very strange and curiously considered art.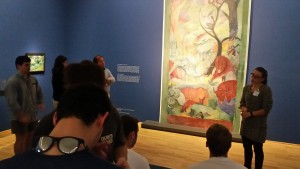 At the Arts & Culture Museum
A few of the students also made their way to the Picasso Museum where we also able to see some of Picasso's work on display as well as the current visiting exhibit called "Paris im Blick" where black & white photos taken of Paris throughout the last hundred years were on display, some of which were very beautiful in their simplicity. The entire student group made their way to the StadtMuseum (City Museum) where we were able to see how Münster had grown throughout the years as well as what had happened to the city during World War I, the Weimar Republic, and World War II.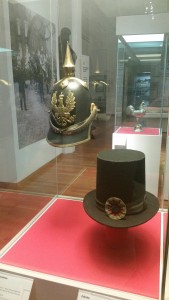 In the StadtMuseum
Some students also took the opportunity to go to the Münster Zoo. In my opinion, a very beautiful zoo with an amazing number of animals of which I took over 200 pictures1 of! The layout of the zoo had interactive exhibits to where you could walk into where Lemurs, monkeys, birds, & camel enclosures and be up close to the animals themselves. Afterwards we took a boat ride across Lake Aasee to the west of Münster and enjoyed a nice beer on one of the only boats on the lake. This past weekend the students also had the opportunity to experience the Carnival in town complete with fireworks on Friday evening and many fun rides and interesting carny foods to try. After all this activity in the last week, the students are now hunkering down preparing for finals and the eventual end of classes and thus the end of our time in Munster.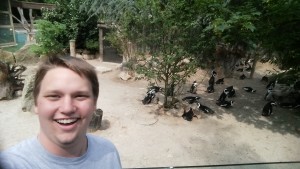 At the Zoo
Wednesday is our last day of classes and our last day of finals after which many of the students will be going out and celebrating a successful study abroad month in Münster. Thursday marks our final day in the city we have grown to call home after living in it for a month hosted by our wonderful host families. Thursday evening we will be having dinner with all the students and their host families at the beautiful Schlossplatz Garden Restaurant. Although we have all thoroughly enjoyed our time here in Münster most of us are ready to head home and reunite with loved ones and friends. Before we are able to do that though we will be enjoying a few days in Berlin complete with multiple museum visits and the celebration of July 4th at an "American" Bar where we will be able to meet other Americans and celebrate Independence Day in our Patriotic clothing.