Don Barry
May Term Abroad
Münster, Germany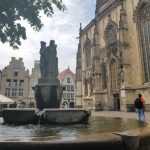 I chose the Muenster Program because of the opportunity it offered for an immersive cultural experience in a city that is far older than our country. I am double majoring in Foreign Affairs and German at Hampden-Sydney College and I believe to truly understand how foreign countries operate you must experience these countries first hand.
I was very pleased with the level of hospitality given by my host family. I feel like I am becoming more and more a part of the German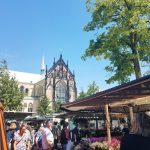 society daily by riding on public transport, eating at local restaurants, and attending the local school.
So far, my favorite thing that I have been a part of is the local outdoor market that is held every Wednesday and Sunday in the large city center known as the Domplatz or Cathedral Square in English.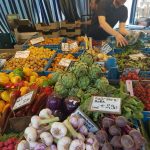 This market is where the local residents come to purchase fresh fruits and vegetables along with goods produced locally. It was great to buy fresh fruits and vegetables knowing that it was grown just minutes from where I am staying.
My only concern with coming on this trip was the mastery of the public transportation system. Here in Muenster, there are many buses with select routes that run at very specific times and for someone who has never taken part in prolonged public transportation, this seemed like a daunting task. While I worried about this, my host family reassured me and helped me map out which buses I needed for school and when they would arrive and depart. Muenster is a fantastic historical and beautiful city.