Arthur White
Costa Rica
Fall Abroad 2018
FOOD
The very first slide of the very first orientation presentation very poignantly said of Costa Rica, "welcome to Costa Rica, where eating too much is the new normal." Having been here for a short stint already, I can fully assure you that the program director, Rodney, was not joking.
Most morning, Iliana prepares fried eggs, some form of meat, an assortment of fruit which always includes papaya, various types of bread, and occasionally gallo pinto. This last one is a very popular dish in Costa Rica and consists of rice, beans, and various ingredients that are often left-over from dinner the previous nights. Like I said, we don't have gallo pinto every day, but it is popular enough that several other IFSA students have it every morning, and at McDonald's for breakfast you can order a McPinto Deluxe, which is scrambled eggs served with a sausage patty, two hot tortillas, gallo pinto, and a sour cream-based sauce called natilla. I would say that lunch is usually standard fare, like sandwiches and such, but we've also had omelettes with chiles rellenos and a personal favorite, so far, sopa de mondongo, which is a slow-cooked tripe stew. Personally, I'm already a big fan of tripe, so Iliana was very happy to hear I was excited for and enjoyed lunch that day. Most days dinner is really a wild card, my first day we had chicken fajitas, made with a small chicken that she had slow-cooked all day it was mouthwatering.
While I think that Iliana's cooking is some of the best food that I have had in the country, Tico fare is very, very delicious and often very varied. My friends and I have gone to a creperie near campus twice now and I'm still not terribly sure how I feel about a chicken and mushroom stuffed crepe, served with a potato and beet salad, but it was definitely a new experience. As I type this, I can already imagine several reactions of, "but you're in Central America, why are you going to a french eatery?" A fair question, I assure you, but surprisingly, or not as Costa Rica is a country with a strong tourism economy, the people of San Jose and Heredia are a diverse group. Just within a mile of the university's campus a person could choose from crepes, shawarma, pizza, and Asian fusion, in addition to the numerous Tico and Caribbean food spots.
One of my favorite restaurants so far is a place on the edge of the central valley called, Sibu. Sibu is a pretty awesome place with roots in Costa Rican cuisine but kind of more high-end. Sibu's real claim to fame is its incredible fresh fruit juices, flavored with herbs grown in their garden, and also its made-in-shop from scratch chocolate, cocoa fruit to bar. When we arrived at Sibu, we all received a small complimentary hot chocolate, and when I say it is the best hot chocolate I have ever received, I don't exaggerate. We ate our lunches, and finished off with dessert, Iliana and her sister splitting a gorgeous tiramisu, and I, a drink called chorotega. When I ordered the drink, the waiter's face lit up and asked if I had any idea what I was ordering, and in broken Spanish I replied, "nope it's like fancy hot chocolate, right?" And he laughed, thankfully took pity on me, and explained the drink's background in English, but one of the owners of Sibu is a historian, and as such wanted to serve a drink that is as historically accurate to the cocoa-based drink that the Aztecs drank. It was a rich dark chocolate drink, based in water, with almond, chipotle, and sweetened with honey. Truly, one of the most delicious things I have ever had in my entire life, I convinced some friends to make a trip with me soon just to try it again.
I seem to have caught myself with in a pattern of tying things up nicely with a closing thought, so this week, for obvious reasons, I want to talk about the late Anthony Bourdain. Until recently, I was not familiar with his work until a close friend recommended Parts Unknown to me at the beginning of the summer. Of all the things he spoke about, Bourdain's most pertinent belief was that to grow as a person, you had to travel and eat local, wherever you went. So, while I may not be super extremely excited to try cow tongue for the first time, later this week, I'll be chewing on this quotation from Bourdain, "you learn a lot about someone when you share a meal together." Here's to learning all I can about Costa Rica and the people I meet here through the foods that they love and choose to share with me.
I'll write again soon, nos vemos.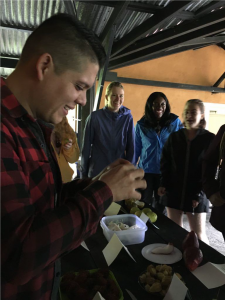 As part of orientation, Esteban gave us an introduction to local fruits which we probably hadn't heard of before, and it was a collection that ranged from granadillas to mamónes chinos.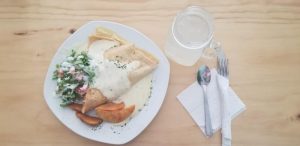 A picture my friend April Vollmer took of the infamous chicken and mushroom crepe, served with fresh lemonade, salad, and patatas.