Arthur White
Costa Rica
Fall Abroad 2018
ARRIVAL AND ADJUSTMENT
I have been in Costa Rica now for three days, and what is there to say but I still cannot believe that I am in Costa Rica. Before this past Tuesday, I had never left the country. While I did live in Hawaii for a few years and in a way that's a whole different country, nothing could have prepared me for the first time I stepped out of the Juan Santamaria Airport in San Jose. The first thing that I came to recognize about Costa Rica, or at least where I have been so far, is the fact that the country is so incredibly active. I walked out of the airport door and there's a small army of taxi drivers waiting to give you a ride; in Heredia, where I will be taking classes, there are always cars and always pedestrians doing their best not to get run over; even around my homestay in San Pablo, which is a suburb of sorts, people are constantly around hanging outside their house or walking to their jobs.
In all seriousness, I feel as though the "Tico" culture of always being outside is very tied to the wonderful climate that Costa Rica, and specifically the central valley, has to offer. Every day the temperature is between 60 to 72 degrees Fahrenheit, and there's a very good chance that every area will receive just a little bit of rain. An interesting impact of the weather here, is the absolute uselessness of the weather app; fun fact: when the weather forecast says, 'there is a 30 percent chance of rain' what the forecast actually means is 'within the forecast area, 30 percent of the prediction area will receive rainfall.' So, when at least 90% of the forecast area receives just a tiny bit of rain, the forecast probably says 90% chance of rain, as it always does in San Jose, it is a good idea to always have a rain jacket, hoodie, or hat.
I arrived, stayed for a day at a hotel, and now I'm at my homestay. My "mama tica", as IFSA-Butler refers to our host parents, Iliana lives about two miles from the Universidad Nacional campus, and we are slowly getting accustomed to being around each other. Iliana lives with her two dogs, Gia and Coco, and she is an incredibly talented cook, but I'll be talking all about food in a different post. But now, to finish here's a closing thought for future-me, for any other students studying abroad, for anyone thinking about studying abroad, and for all my friends and family back home having trouble starting 'that new thing'. Whether or not you are a fan of Bojack Horseman, one of my favorite quotations from the show is as follows, "it gets easier, every day it gets a little easier, but you gotta do it every day. That's the hard part." Over the past few days it has been easy to get frustrated over my language skills or the difference in culture, but when I learn to let it go and keep moving, then I begin to progress. Even within the time I've been here, I've gone from nodding mindlessly to responding, as best as I can in Spanish , and occasionally in English, but that is okay because it may be hard now but each day it gets easier.
For now, nos vemos!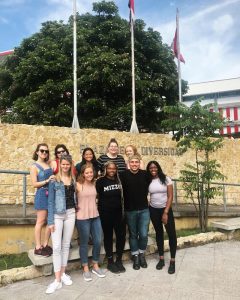 Shortly after we arrived, the estudiantes estadosunidenses had to get a picture together. Yes, I am the only guy, and yes, it is a bit of a big change from good ol' H-SC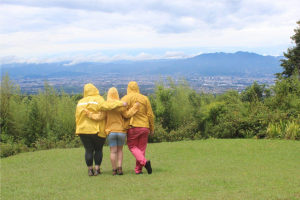 As part of our orientation, we all took a trip up to Monte de la Cruz on the outer edge of the Central Valley. The view was incredible and impossible to fit into one picture because it was so large, but the yellow jacket squad tried its best.