Arthur White
Costa Rica
Fall Abroad 2018
Manuel Antonio, Cerro de la Muerte, and Monteverde, Oh My!
So, the past few posts I kept teasing information about my adventures outside of Heredia, and now that I have finally gotten pictures back from my trip to Monteverde, it's finally time for an adventure post! Shortly after we arrived in Costa Rica, the group decided to take our first and only available long weekend to go to a town called Quepos, specifically about 15 minutes outside of Quepos, near a national park called Manuel Antonio. The actual little area around Manuel Antonio is basically a little beach town, but for all intents and purposes it is considered part of Quepos and not an independent town. Due to the proximity of the beach to the national park, we spent most of the time on the beach. This is where we get to the lessons learned from Manuel Antonio. 1). If you go to an unknown area, check the heat index; Manuel Antonio is actually one of the hottest areas in Costa Rica, and although the group stayed at two different hotels, neither hotel had air conditioning or even a ceiling fan. Yes, the hotels were only about $13-$15/night, but that's probably because a person can barely stand to stay in the hotel during sunlight hours, making the hotel only usable at night. They also didn't have towels, but that was fine, I had already prepared myself to buy a towel once I got there. Furthermore, if you recall, sunscreen is incredibly expensive in Costa Rica, so if a person is outside of his hotel all day, he better come prepared with a lot to cover up with or bite the bullet and invest in sunscreen… I did neither. My mistake resulted in one of the most bizarre sunburns I have ever had. It didn't hurt at all, but boy howdy it peeled for nearly two weeks.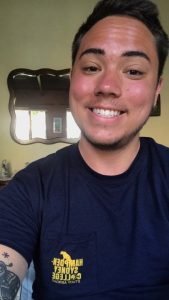 I'm not joking when I say that the redness stuck around for a full week, easily, and the peeling another week after that.
So, I'm here today to tell you, don't let your stubborn stinginess stop you from enjoying a beautiful beach/national park because you decided to go with the cheapest hotel and no sunscreen. That said, Manuel Antonio was incredibly beautiful, and I cannot wait until the next time I go to the beach in Costa Rica, this time armed with sunscreen.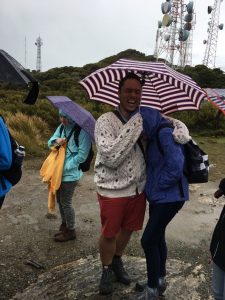 If Manuel Antonio is one of the hottest places in Costa Rica, I can say with confidence that Cerro de la Muerte is one of the coldest places in the country. For my Ecology and Sustainable Development course, we have several field trips planned in order to visit ecologically significant places in Costa Rica. Our first trip was to Cerro de la Muerte, and when the professor said that the mountain was cold, we laughed and shrugged off his warning. Now I have to say, I think that was a warranted reaction, ticos are "friolentos", which is to say when it is 50 degrees outside they are pulling out heavy coats. As soon as we stepped off the bus, we realized that the professor wasn't saying cold, as in tico cold, he meant just absolutely frigid.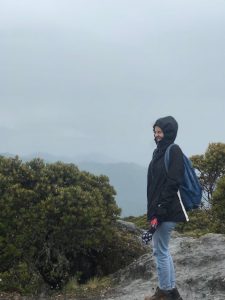 Yup, we were not prepared for 36-ish degree weather, with rain and heavy winds.
Freezing our butts off aside, the trip to Cerro de la Muerte was really interesting, we learned about the types of adaptations that the mountainous species have, such as shorter plant heights or that bees nest under the ground at that altitude. This coming week, my class will be giving presentations about the plants and animals that we observed and the ways in which they interact with each other.
So, we dealt with extreme heat, then terrible cold, is there a goldilocks style medium climate that we could finally visit? Trick question, the other IFSA students and I actually already live in one of the most moderate climates in Costa Rica, but that doesn't mean we can't go visit one. About a week and a half ago, we visited the area known as Monteverde and its neighboring town Santa Elena. Having dealt with two crazy opposites, we all came with clothes for any weather so that we wouldn't get caught unprepared again. Even had we removed the factor of temperature from my previous adventures and from Monteverde, I can say with confidence that Monteverde has been the most fun so far. The first day we visited a sustainable coffee plantation, called Life Monteverde, which is part of an association of twelve coffee farms in Monteverde run by an extended family. We got to see the ecological practices of the farm from composting to the use of a methane biodigester, and we got to do a little coffee tasting. The next day we hiked part of the Monteverde Cloud Forest Reserve, which was awe inspiring. The section we explored contained a section of the continental divide as well as a view of an area of the forest known as The Elven Forest.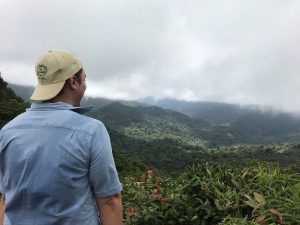 Following the adventure in the cloud forest, we were invited by the Monteverde activities director, Maricella, whom graciously invited us to her home to teach us how to cook "comidas tipicas" and we had such a fun time making dinner. Dinner included several types of empanadas, guacamole, chimichurri rojo, a salad, and patacones.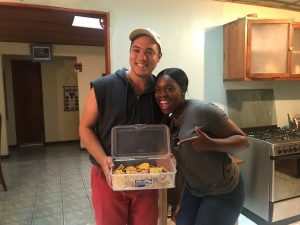 My friend Fu and I learned to make patacones, which is a sort of chip made by double frying and smashed green plantains. They were my favorite food of the night, without a doubt, and I'm definitely going to keep that recipe in my back pocket.
We finished the trip on Sunday with one more visit to the cloud forest, and we got to either zipline or walk the sky bridges at 100% Adventura Tours (I'm going to name drop here because this experience was so awesome and if anyone reading is thinking about going to Costa Rica, this place is a Must-Do). I chose to zipline, which was a new experience for me, and I am so glad I made that choice. It was an incredible adventure.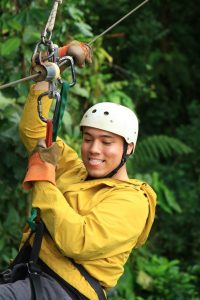 What an adventure! In this picture I am concentrating so hard because I'm about to hit the first landing platform and I was so focused on not dying I forgot there was a photographer.
The first line was terrifying, and I could barely bear the thought of stepping off the first platform, by the end I was hooting and hollering as Fu and I tandem rode the kilometer long "Tarzan Swing". All in all, the adventures in Costa Rica have been so fun, but even more so, I am really glad that I get the opportunity to stay in Costa Rica for a few months with occasional adventures in between classes. This structure makes the adventures mean so much more, as they are a time to relax on one hand, and on the other hand I have time to "recover" between trips and better absorb every cool thing that I am experiencing here. This week I don't exactly have a famous quote to close with, but I do have a closing thought: the things you'll learn while you travel are rarely the lessons you prepare for. Like the Hitchhiker's Guide to the Galaxy will tell you, always bring a towel with you, I will add on and say, sunscreen and a good rain jacket are travel essentials. Once you have those, keep an open mind, open plans, and have fun finding the hidden lessons. Nos vemos! I'll write again soon!