David McElrath
JYF Sweet Briar
Paris, France 2018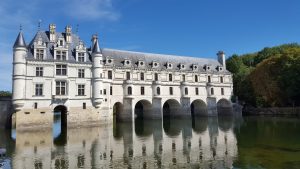 These last two weeks have flown past in a nearly uninterrupted flow of lessons, experiences, and memories made with new friends, at new places, and with new adventures each day. Our extended orientation weeks have given us, as a group, time to get to know one another and our respective host families here in Paris. Last weekend, we took a group trip down to the Loire river valley, enjoying an extended look at the plains of France's heartland. While there, we visited three different royal palaces, each with its own unique history, architectural style and artistic design. Chenonceau, featured right, offered an opulent view over the calm waters of the Loir river.
Arriving in Paris, I now begin to realize how much I had acclimated to the calmer pace of life we enjoy in such isolated areas as Farmville. To be sure, I have enjoyed being back in an ever moving, ever changing city-scape – I simply find myself fondly remembering cool, breezy days walking the Wilson Trail after a long day. It is hard to find anything quite so peaceful here, as even the calmest moments still teem with attention-grabbing details. Still, I have found ways to relax apart from the frenetic day-to-day activity of the City. Just this last Saturday, I (and a few others) visited the Musée d'Orsay – a veritable trove of famous and stunning art pieces from all over the world. Even the view from one of the upper floors of the museum was incredible. Before such famous and intricate works of art, one could not help but feel a little more relaxed about the future.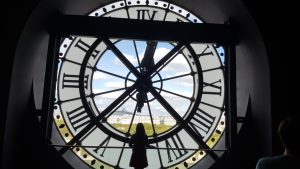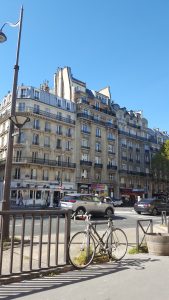 Each week brings with it a new variety of opportunities. Chances to experience new and incredible things, but also new challenges. We truly are living in a different culture, with different values, habits, and most obviously, language. One of the most humbling things about my time here is how it has showcased how much I have yet to learn to be able to express my thoughts to others in another language. And while I have several months here to begin to address that problem, I begin to think that time will run quicker than I expect it to. Despite this dour thought, I look forward to the coming days and weeks as my chosen classes commence and my routine for this semester finally emerges.