Arthur White
Costa Rica
Fall Abroad 2018
Nos vemos, Tiquicia!
This post has been a long time coming and I have to say that it also is coming so soon. About a month ago, my program members and I got to visit the Caribbean coast of Costa Rica and it was incredible. One thing most people don't know about Costa Rica is that most of the country isn't on the beach, and it is in fact, not, an island. From the capital of San Jose, which is rather close to me, it takes about five to six hours to reach the nearest beach. Saying that, the Caribbean coast generally has the vibes that aspiring tourists have of the country. The beaches are gorgeous, the water is crystal clear, even after three nights of rain, and the Afro-Caribbean influence in the area is incredibly strong with Limonese music groups bar-crawling and playing for a bit at each new place on the weekends. One of my favorite parts of the trip was a trip to a Bean-to-Bar chocolate plantation, called Cari-beans. We got to see every step of the process from the acres of cacao trees throughout the plantation, to the seed pod fermentation and drying area, and ending with the little chocolatier kitchen. We also had a chocolate tasting of six 73% cacao chocolate made with beans from plantations all over. It was so incredible to taste the major differences between these chocolates prepared in the exact same way. My amazing experience in the Caribbean coast aside, this was the last scheduled program trip which meant departure was just around the corner and as I finish revising this article, departure is just around the corner, I leave on Saturday. I can honestly say that the end of semester has been the hardest of my life, many several page papers in Spanish, two 10- to 20-minute presentations, and of course, finals. Having, nearly, survived finals I have all the end of program things to hurry through, dinners with friends from my program and from Costa Rica, evaluations, and, also last-minute gift shopping because tomorrow is payday. In a bit, I'll be making a last post to summarize some of my biggest lessons, once I've had time to step back and think about my program. For now, though, I think the lesson I'd love to end with is that of dealing with homesickness, so you're not rushing to end your time abroad. For everyone in my program homesickness has been different between missing specific friends, or a pet, or hoping for a hamburger instead of another serving of gallo pinto. The thing that I want to press home is that because we all had homesickness due to different things, we had to deal with homesickness differently. So, my three suggestions are as follows. Being apart from family and friends does not mean you cannot be a part of your friends and family. I'm more than sure they will want to hear about your adventures, but what most people don't expect is that you will want to hear about things back home, so call them and stay in touch. Second, indulging in home is not shameful and should be encouraged, just don't go wild. Remember to try those restaurants you know you'll never find back home, but don't be ashamed because you really need some comfort McNuggets. Finally, sometimes homesickness is a nice thing to blame when things are going sour, like a bad test grade or trouble understanding some phrase used in everyday conversation. When you feel homesick, take a breath and take account of your past week. It is possible that if you can identify the problem and work on fixing it, it could either distract you from or eradicate almost entirely your homesickness. In his memoir, Roald Dahl said about homesickness, "[It] is a bit like seasickness, you don't know how awful it is until you get it, and when you do, it hits you right in the stomach and you want to die." Which I think is apt, it can hit out of nowhere, and just like seasickness everyone deals with it in their own way. A person could spend the whole boat ride tossing their lunch over the side or they could find their ginger ale, or root beer candies, or whatever their preferred method is. I hope that when you're abroad you won't get homesick, but if you do, remember your ginger ale may be different from someone's Dramamine, and that's okay.
Wishing you the best abroad, I'll write again soon!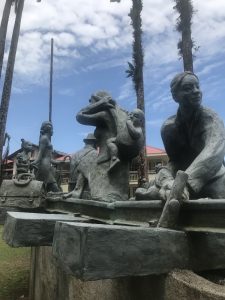 The history of Limon and the Caribbean coast of Costa Rica is deeply entwined with the history of the train rails. During the time of the track-laying, many people came and were brought from the Caribbean Sea and Asia. Even today, this effect is seen with the makeup of people who live on the eastern coast.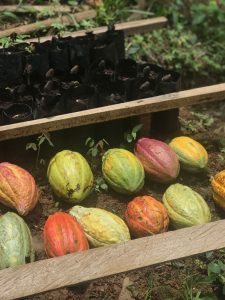 Something really, wonderful we learned about cacao trees is that like apples, every tree is completely different from another. In the same way that Granny Smith apples all come from cuttings of one tree, there are heritage strains of cacao. The plantation we visited elected not to grow commercially accepted heritage cacao, in order to keep prices down, also to have more control over the final taste profile of their chocolate.