Blake Page
AIFS Universitat Autonoma
Barcelona, Spain
Spring 2020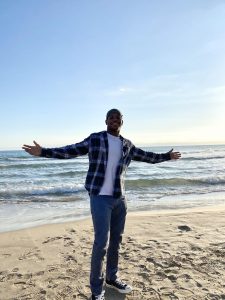 I've arrived in Barcelona and it has exceeded every expectation. The city is beautiful and very full of life. It is also very fast paced, with a lot of people walking, which was overwhelming the first few days. My main transportation for getting around the city and to class is the subway, of which I had to get familiar. The subway system was very confusing with many different routes and stops, in addition to the large amount of people using it. After the first week or so, it became much easier to navigate the subway with the help of the Barcelona subway app. My commute from home to class is usually around 20 minutes combining riding the subway and walking. Walking is a must, here in Barcelona, and virtually everyone does. I do not mind the walking, because you get to enjoy the scenery and the wonderful smells of the numerous restaurants, pastry shops, and bars around town. While walking, you may even stumble upon a restaurant you want to try out.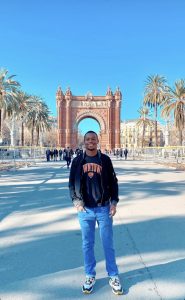 I have been here for about 3 weeks now and my homestay has been nothing short of amazing. My host family is a retired couple who are the kindest people. They speak no English, only Spanish, which I was afraid of when I first arrived, as my Spanish is not the best. The first few days it was hard to communicate and get past the language barrier between us. But, we never got frustrated and worked to communicate by gesturing and using google translate on my phone. Today it is so much easier to communicate, as I am building on the Spanish I already knew prior to the visit, plus learning from my host parents, friends and using the language around the city.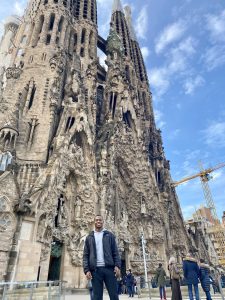 My host family stays in an apartment, which is not far from a metro stop for the subway, which is very convenient. My room is a good size with a desk, closet, and probably a XL twin-sized bed. I have a half-bath right outside of my room, which I use. To take a shower, I have to go to the full-bath, which is located next to their bedroom. My host mom does all the cooking and she is an excellent cook. Dinner is my favorite time of the day, because she makes amazing food. This is also the time I usually mingle with my host parents, as we watch soccer (my host dad's favorite sport) or a Spanish food channel. Breakfast is not big here, as I usually eat toast with jam and orange juice. So far, my homestay has been great and I am glad I made the choice, because many of my friends who chose to stay in apartments complain about having to cook for themselves and are always eating out.
I will be traveling to other places with friends very soon, which will be exciting to blog about. See you soon!
Blake