Antony Vinson
UVA in Valencia
Valencia Spain
Spring 2020
The Beginning of The End
It feels like yesterday when the alarm on my phone was ringing at 7 am to start my day. I had a nice routine of waking up and running to the gym a mile away to lift for an hour. Followed by a casual stroll home through the market to buy a ham and cheese sandwich for an afternoon snack before going to my usual neighborhood bar to eat a few eggs, potatoes, sausages, and drink a café con leche. I read the Wall Street Journal and did a quick market update to monitor the financials of the US economy and check for how COVID-19 was affecting Spain. It was a great day, but something did not feel right. I returned home to shower and get ready for school and walked down the street to catch the bus. After getting off the bus, I turned the corner to walk to UVA's campus and overheard girls making assumptions that our program would be cancelled sooner than later. Ironically, they were correct; however, it was not until my second class when UVA made the announcement. Girls started to cry and walkout of the classroom, emotional. To the contrary, I walked to the closest bar with some friends to order beer towers and enjoy the little time we had left in our beautiful country. My classmates were going nuts and in full panic mode trying to buy an international flight home at a reasonable price; however, I had already paid for a ski trip to the Swiss Alps, and I was determined to check that dream off my bucket list. After a few beers and a brief phone call with my parents, we made an easy decision. I was going to Switzerland! The staff at UVA had a heart attack when I informed them of my plans and tried their hardest to send me back to America instead of Switzerland; however, my determination was no match for the obstacles I was about to face as I navigated a logistical nightmare. I had one day to figure out what to do with my big suitcase, where I would stay when returning from Switzerland, a flight home, and if Spain would even allow me to reenter the country. Taking advantage of the skills from Hampden-Sydney, I thought critically and did my research to discover the best course of action. Little, by little, I found solutions to all my problems and was excited to takeoff for the ski trip of a lifetime. Fortunately, a friend named Zach, who was in the same situation and part of the ski trip, informed me of his decision to continue with the trip. I was excited.
Friday, March 13, I said goodbye to my host family and walked out of the apartment for the final time to take the subway to the airport. Zach and I were officially on our own. We had signed our release forms and were left to our own wits to navigate and explore. I passed by multiple classmates who were boarding for their flight back to the US, all sad to leave, but I had acquired an extra week and was in no rush to leave.
My trip from Valencia, Spain to Grindelwald, Switzerland took a full day of travel. It started with a 2-hour plane ride, then navigating four different trains and hoping we jumped on the right track. Zach and I relied on the kindness of the Swizz people to navigate their complex rail system. Finally, after eight hours of travel, we arrived at our destination. It was pitch black as the final train crawled at a steep angle up the mountain to the town of Grindelwald. Tired and hungry, we walked through the small town looking for an open restaurant. Fortunately, there was one place open and their food tasted so great after a full day of travel. Next, we walked to our air bnb and settled in for the night. We'd bought and paid for three days of skiing; however, Switzerland was closing down after the weekend, but we were lucky to have two days of prime world class skiing.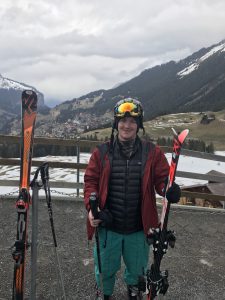 The next morning, we woke up early and bought sandwiches and bread at a local bakery as we carbed up for a long day on the mountain. We rented skis, poles, and boots from a ski shop and took the train up to the top of the mountain to ski. The train ride took 40 minutes and it climbed at a steep 40-degree angle straight up the snow-covered mountain and dropped us off at the peak. I was amazed at the beauty of the Swizz Alps, the rocky peaks, its white powdery snow, and the fun positive smiles of the locals.
My legs were on fire. We skied hard the whole day and did not take many breaks as we explored the mountain. I loved how the resort at the top was set up. Skiers could ski the front, back, and sides of each peak. Unfortunately, the trails were not clearly marked making it confusing and difficult to navigate the terrain; but I was not complaining, because the skiing was top notch. At one point, the top of the mountain became very cloudy making it tough to see and gave the illusion of being in a total whiteout environment. At the end of the day Zach and I opted to take the train down the hill because we were very tired from a full day of skiing. After five minutes, I was passed out asleep hard on the train going down the mountain. Zach woke me up when we arrived at our stop, but we found out Switzerland was shutting down the ski mountains two days earlier than expected, and we had just skied our only and final day. I was sad, but incredibly proud and fulfilled that I was able to ski at least one day.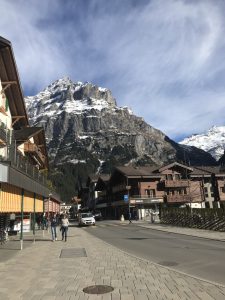 The next day Zach informed me he was heading home and would be leaving me in Switzerland. I was not worried, nor concerned that I would be alone in Europe, instead I was excited. Zach and I parted ways and I wished him well on his train ride to Zurich to catch a flight back to the US. I spent the day washing my ski clothing and exploring the small town of Grindelwald. I indulged in swiss chocolates and German beer while enjoying the beautiful view of the Alps. I could not have imagined a more beautiful scene. I was in a fishbowl, with snowcapped mountains surrounding the area.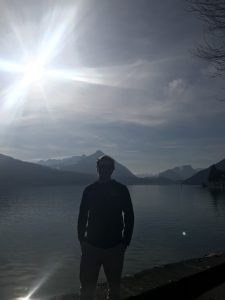 With the mountain being closed, I decided to leave Grindelwald a day early and spend a day in a nearby town named Interlaken. Interlaken was famous for being in between two lakes in the middle of the Alps. After a short thirty-minute train ride, I got off and explored Interlaken. I strolled down the sidewalk and sat down at a local restaurant to get a bite to eat and take in the surrounding area. Shortly after, a group of people came down from the sky paragliding. They landed in the field in front of me and walked to their meeting point, which was next to my restaurant. Luckily, they were doing one more trip later in the day and I signed up for the exciting opportunity to fly through the sky. I had a few hours before the event, so I rented a bike and rode to the lake to enjoy the view and explore the town. It was stunning. Next, I returned to the meeting point and was outfitted with the proper gear and shuffled into a van to drive up a mountain nearby. My instructor hooked me into the parachute, and we ran down a hill to catch wind as we sored into the sky.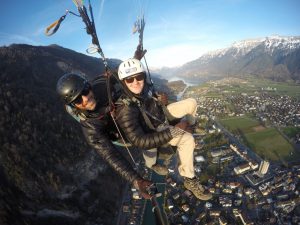 I flew around in the air taking in the beautiful town, lake, and mountains. I was in awe at the beauty of everything. I was glad I wore my Patagonia down jacket, because it was a little cold up in the air, but worth every second. At the end, the instructor pulled on the rope and did a few flips and tricks in the air. My body went upside down as we flipped, spun, and soared through the air before coming to a smooth gentle landing. Wow, I had no words to describe the experience of gliding through the sky and viewing the vast landscape. I wish I could have stayed in Interlaken for a few extra days, but my flight to Valencia was early the next morning.
I took the train back to Zurich and spent the night in a Hilton hotel, compliments of my father, before flying out early the next day to Spain to retrieve my luggage and book an international flight home. It was a crazy few days of travel, but worth the headache and lack of sleep. I greeted my parents at Richmond International Airport at midnight, but to me it was 6 am because of the difference in time zones. My parents brought my truck filled with food, supplies, and my dog, because I was being shipped out to my hunting trailer for an extra two-week vacation of quarantine.
It has been three months since I was in Europe, and I wish I could have finished up my semester in the incredible city of Valencia. I will forever remember and cherish my morning routine and the fun nights, weekends, and adventures I had with my friends while abroad. I look forward to the day I am able to return to Spain and run around Europe, but until then, I am fortunate enough to have one final year left at the incredible Hampden-Sydney College.
Thank you Ms. Wright, Dr. Widdows, and Dr. Palmer, for encouraging me to spend the semester abroad and for all of your help and guidance.
Anthony Vinson
HSC '21
"To awaken alone in a strange town is one of the pleasantest sensations in the world." – Freya Stark