Franz Gilbert
American University
Washington, D.C. USA
Spring 2021
4/12/2021
It feels like time is flying, or maybe it is because it feels like my life is more eventful. Not only do I get the opportunity to keep up with what is going on at H-SC, but I have also established a new circle of friends and activities while up here in D.C. It feels like every day is jam-packed with activities.
Work and Classes
Since my last blog, things have pretty much stayed the same course. I am still impressed every day with the level of guest speakers that I have been able to listen to and talk with. In the last weeks, two of my classes have given me the opportunity to sit and talk with former Ambassadors and hear their stories and thoughts on critical international events that are happening. I am learning and growing every day in my professional skills at work and have enjoyed doing research the past few weeks. It has been nice to study topics that I would never otherwise research on my own and gain invaluable knowledge of the consulting world.
I know everyone knows that internships are important from a resume standpoint, but at least for my internship, I have learned a lot of important lessons and broadened my perspective. There is one thing to do schoolwork in College (e.g., control your own schedule, maximize the learning from each activity, etc.) to working in an Internship – where the activities and timelines are scheduled around the business needs and timelines of your employer. This requires a new set of time management skills. I encourage everyone to try and get an Internship like this.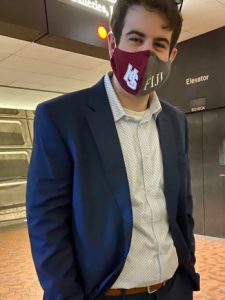 Amazing Dinner and Cherry Trees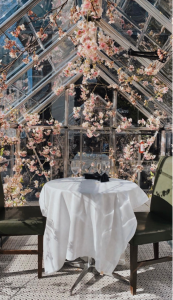 I am working hard, but also working hard to maximize my experience. So last Saturday night, a couple of us went to a restaurant that served dinner in greenhouses that housed blossoming Cherry Trees. The history of Cherry Trees in D.C. is often told incorrectly. It actually started in 1885 by a single individual – Mrs. Eliza Scidmore. She had been a diplomat in Japan and loved how the Japanese have festivals celebrating the blossoming of Cherry Trees. The beauty of the trees and the potential for a celebration inspired her to try and get Cherry Trees to Washington D.C. She spent 24 years campaigning to get trees to Washington, D.C. Her action resulted in Dr. Fairchild in 1906, importing 100 trees and testing them on his property to make sure they thrive (which they did). The Fairchild's were so pleased with the results, that they imported 300 more trees and then also gave 1 tree to each school in the district to plant in their schoolyard for Arbor Day. It turns out, there was a Japanese Scientist in D.C. who heard about this and got the Mayor of Tokyo to donate 2,000 trees. However, after the trees were planted in 1909, it was discovered that the trees were infested with bugs – so all of the trees had to be burned. To remedy this, Japan sent 3,020 trees, which were planted from 1912 to 1915. Mrs. Scidmore's original dream came true in 1935, when Washington held the first Cherry Blossom Festival.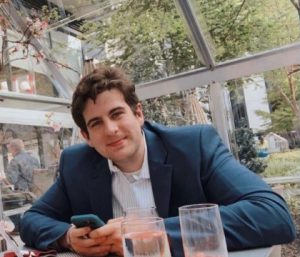 Ironically, the orchard in Japan fell into disarray during World War II, and the US ended up sending back cuttings from the Cherry Trees they had sent the United States. It allowed them to repopulate the orchard with the original genetic line.
 Touring the City
I was able to rent a scooter a few weekends ago, and that completely changed my view of the city. Before my scooter adventure, I must admit, sometimes I laughed at the tourists that would hoot and holler on the scooters as they were weaving in and out of pedestrians. I became one of those people hooting and hollering down the streets of D.C.
I continue to take in the city at night. I am extremely grateful for my time in this city and also realize that my semester in D.C. was extremely unique. It will never be this quiet again. As my program is ending, I notice myself wanting to sit back and take in everything I can before the program ends. I hope to spend a couple of days here after my finals just relishing my last moments. Thank you to all the people that made this possible – my parents, Dr. Widdows, many awesome professors and mentors, and my brothers on the hill. I won't forget it!
Franz Gilbert