Raymond LeBlanc
London School of Economics and Political Science
London, England
Spring 2021
May
Time is flying here in the UK. This is because I have started filling my free time with more and more interesting activities. This past week, I planned a road trip to Scotland with two of my friends who are also from the United States. I am amazed at how willing three strangers are to spend 11 days driving together from the midlands to the highlands. Even more amazing is the three of us met a friend from London who will let us put 1,500 miles on his car! Absolutely insane. Other than planning trips, I have also spent plenty of time wondering the city, enjoying the cold air and exploring the restaurant scene around the city. The most notable has been a Shisha bar called Elysée. I along with five other friends from the US and UK made a booking two weeks out from restaurants even opening. We arrived and it felt like we went into a different world. High profile clients from across the world were pulling up in Aston Martins and Mercedes Benz, and the six of us hopped out of our humble Ubers for which we had split the costs. Feeling a tad out of place, we sat at our table, and ordered drinks. After about thirty minutes into our dining experience, a group of London finance fellows sat at the table right next to us and ordered about 6 bottles of Champagne. They offered a great deal of advice and networking opportunities to us over a few beverages. The food was incredible. Greek delicacies were served along with fantastic cocktails. Can't miss this spot if anyone is thinking about visiting London.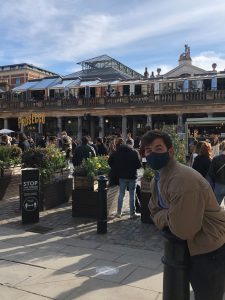 The second most exciting thing that opened in the UK has been the gyms. This was something that I was most excited for. Over the past three months, I have been working out with only a jump rope and two discount adjustable dumbbells that my friend purchased off of Amazon. We would work out five times a week in his kitchen while his flat mates would bustle in and out judging our routine, but now we are able to join a real fully functioning gym with free weights, barbells, and proper machines. The day that I returned, felt like a dream. The space is much smaller than Tiger Rec or any suburban gym in Virginia. However, they have really maximized the limited space by making it three stories with everything a guy like me could need.
The third most exciting thing that has finally opened has been "non-essential" stores. I have walked past a Nike store on the way to the train station about 50 times and have always wanted to go inside. Finally, the day came when I could enter. I was returning from King's Cross station, and I looked to my left. The overbearing two-story outlet looked at me in the eyes and told me that I had not purchased anything other than food and drinks in four months. I went inside. After being pulled in by the stores gaze, I walked around and felt every little thing calling for my attention. It was odd, normally I do not like shopping or spending money at all, but I felt like splurging for the first time in a long time. I bought a single pair of sneakers for more than 50% discount and ran out of the store feeling like a champion. The "pent up demand" that people say will boost British GDP before the end of the year may have a bit of validity.