Dr. Rachel Goodman and E. Davis Carter '15 recently published an article, "Survey of Herpetofauna on the Campus of Hampden-Sydney College in Prince Edward County, Virginia" in Catesbeiana (available here). They summarize findings from various surveys (including student research projects and Ecology and Herpetology class trips) for reptiles and amphibians that were conducted during 2010 – 2014 on our beautiful 1,300 acre campus. We can now boast of having 4 salamanders, 6 frogs, 5 turtles, 8 snakes, and 3 lizards at HSC. The authors report on demographic data when available for a species, and compare detection rate for herps using artificial cover objects (tin roofing and plywood sheets) laid out in the woods.
CLICK HERE to get a PDF download with images for the Herps of HSC!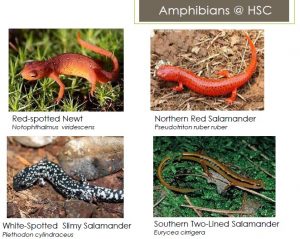 Davis is currently pursuing his Master's in Forestry, Wildlife and Fisheries at the University of Tennessee, Knoxville and is hoping to continue his PhD this year in the lab of Dr. Matthew Gray.