by Peter Crowe '08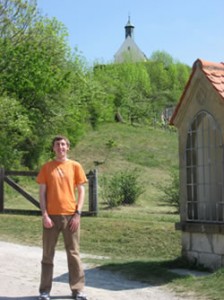 (Wurmlinger Kapelle about a two hour hike from Tübingen)
Greetings from the University of Tübingen, Germany!
I am very confident in stating that my study abroad experience has been one of the most unique and independent opportunities that students from Hampden-Sydney College can experience.
The program which laid much of the groundwork for my experience is called Antioch Education Abroad, organized by Antioch College in Yellow Springs, Ohio. Antioch's philosophy is very liberal in that it only organizes very little, allowing us students partaking in the program much leeway. The program is broken into essentially three sections: Goethe Institute, German Compact, and actual study at the University of Tübingen here in southern Germany. Antioch makes us participants take German classes at a Goethe Institute (language and cultural school) anywhere in Germany. I wanted to study in Münich because I had heard how beautiful a city it was. Not only that, but I knew it would be nearby the beautiful Bavarian Alps.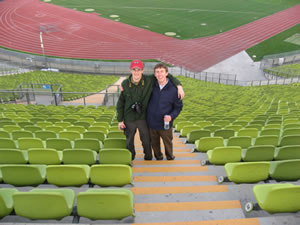 (Tom Badger and myself at the Olympia Stadium in Münich. Tom was visiting from his study abroad program in Scotland at the time.)
So it was that I began my trip in Germany by touching down at Münich International airport on February 5, a few weeks after Hampden-Sydney College has returned to session. Münich is known as "Stadt mit Herz" or "city with heart". Münich is very much the city with heart. During weekdays I attended language class for about four hours every morning. In the afternoons I would wander around the city exploring the many beautiful churches or historic sites in Münich. And before you ask, no I have not seen the movie, " Munich", but I have seen the place where that movie took place: Olympia Park located on the edge of the city. Then in the evenings I would return to the dormitory and spend the evening with a few friends I made. Two of the other people in my dorm and also at Goethe were also Antioch students. We became friends and spent lots of time exploring the cultural phenomenon that helps define Germany: Bierhalls. And of course we have gotten to eat many delicious Bratwursts and items of Chocolate. During February, I got to spend some time in some very neat places: a day trip to Salzburg, a weekend in the Alps, and a day trip to Neuschwanstein (new swan rock) which is the castle Walt Disney based his dreamland castle at Disney World off of. But of course like all things, Münich had to end. The day after our last class in Münich, I boarded a train with Lincoln and Emily, the two other program participants who were also in Münich.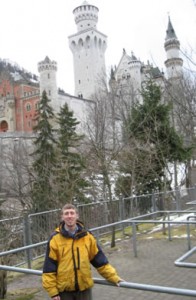 (Neuschwanstein)
Our trip to Tübingen was not uneventful. To save money we decided to purchase a Bavaria and a Badden Würrtemburg ticket. These tickets cost about 27 euros each, but up to five people can travel on one. The only thing is these tickets are only good on the slow regional trains, not inter city express trains. Our itinerary called for us to take the regional from Münich to Ulm, then change at Ulm to Plochlingen, then change again to take a train to Tübingen. We arrived in Ulm a few moments before we expected our next train to leave. We got to the platform, and around our expected departure time we saw a train pull up. We figured it was ours since the time was pretty close, so we boarded. The ticket collector came around and had news for us. Our tickets were no good because we had boarded the wrong train! The train we had boarded was an ICE or an Inter city express headed to Stuttgart. Whoops! So we each had to pay 25 Euros for a ticket to Stuttgart. From then on we are all very cautious to make sure trains we board are in fact the correct trains!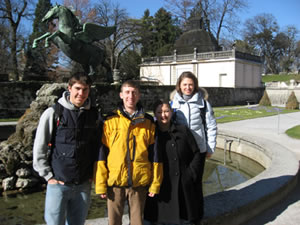 (Peter Crowe with other Goethe participants in Salzburg)
We arrived in Tübingen ready to be away from the trains for a while. We were all eager to get to our Wohnheims (dorms). In Tübingen in March we took part in the German compact Program which was more language school. During that time I got to know a lot of other Americans and a few foreigners. Since the cost of the course is so high, most of the students from Europe do not take it. Only us Americans supposedly take it. German Compact highlights included randomly organized potlucks with friends, a week in Blauburen where the most exciting thing was the blue water and a hike up the tallest church tower in the world ( Ulm-Münster Church), and a wine tasting in Esslingen, outside of Stuttgart.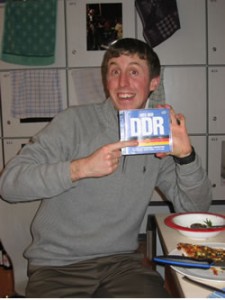 (Me with my newest purchase—the world of Hits Der DDR (Deutsche Demokratische Republik). The DRR was the soviet part of Germany. Therefore their music is superb(haha). And I was very proud of my newest CD.)
I did not finish the German Compact Program because I instead went to Rome for Holy Week. After my return from Rome and the Vatican, I had about a week and a half until classes at the University began. During that time I recovered from Rome and enjoyed the quiet and relaxed atmosphere of Tübingen. German Universities are quite different than anything we have, especially at Hampden-Sydney College. German Universities consist of basically two sorts of classes: seminars and Vorlesungs. Seminars require registration and are more like what we have including interaction with other students and the professor. The Vorlesungs are big lectures and the only graded thing is a test at the end of the semester. The only registration required is for the test. And German Professors are essentially semi-deities. They are addressed as "Herr Doktor…" or "Frau Doktor…". Before the revolts in Europe in 1968 the title "Professor" was included in this already lengthy title.
Germany is very much like America, especially since there was so much American influence in the rebuilding of Germany after the War. There are, however, differences. Germans have not discovered ventilation. Rooms can get incredibly stuffy, so the solution is to open the window, even if it is freezing outside. In that case it is the window open and the heater on. Germans are also very punctual. The best way for me to illustrate this is by stating in German airports or train stations, there are no announcements that planes or trains are on time. It is assumed they will be on time. Being delayed by 5 minutes will illicit apologies from the conductor of the train, and if the ICE is late by 8 minutes, the train staff hand out free stuff. Shops are closed on Sundays and most weekdays by 8pm or so. Sundays are days of Church and hiking in the forests, hills, and mountains.
And there are some similarities. The German government is also not too much fun to work with. Did you know there used to be a state run lost and found in Germany? We can only imagine what would be required to get something found: a biometric passport photo or two, stacks of paperwork, and weeks and months of waiting.
Even though three months of my program have already elapsed, I have three more glorious months in the land of punctuality, Beer, Chocolate, Paperwork, and world class Automobiles. I suggest to anyone who is desiring to study abroad but afraid to leave H-SC to go ahead and study abroad! There is so much to be learned by living in another culture for some time! Also, bis dann und auf wiedersehen!
Herzlichen Grüßen!
April 2007