During the 2003-2004 academic year, 72 Hampden-Sydney students studied abroad in 11 different countries. The length of study ran from a full academic year to May Term courses and ranged from Europe to Central America to Australia and New Zealand.
On September 2, many of the participants gathered in the Parents & Friends Lounge and several shared stories of their adventures.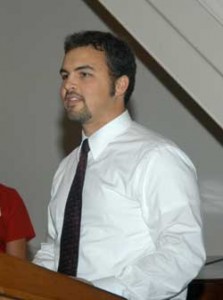 G. W. Zuban '06 of Chesterfield, VA, studied at University of St. Andrews, Scotland, for the Spring Semester 2004.
G.W. chose St. Andrews because of its solid academic reputation and it because is substantially larger than Hampden-Sydney College but not in an urban environment. Early on, he could not find a building where one of his classes was held and stopped another student and asked directions; it turned out to be Prince William, who gave him directions.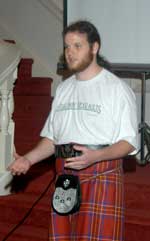 Forrest Smith '06 of Farmville, VA, spent the academic year at University of Glasgow.
He arrived the end of August. Forrest called it a "surreal experience." "I always wanted to go to Scotland, and I threw myself into the culture. First, I tried haggis. It is a brilliant dish; I loved it. With haggis and a pint of Guinness you can't go wrong. The people of Scotland are warm and friendly; if you ask directions, they don't just give you directions they take you there."
"The university experience was like independent study. Professors are very approachable but you are largely on your own. There is much reading. The routine is paper, project, exam, and go home."
The rugged terrain is just as it would have been 400 or 500 years ago. This was the Scotland I went to see, and I was not disappointed. I traveled to Loch Ness and Loch Lomond and took 3- or 4-hour hikes on trails up the mountains. Scotland is so very green.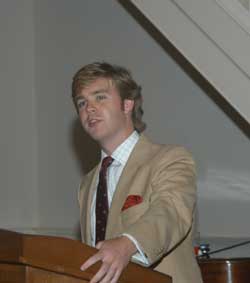 Jordan Gaul '05, of West Chester, PA, spent the academic year at St. Catherines College, Oxford University, England.
"At Oxford there were no tests, study was entirely independent, lectures were optional, but evaluations were intense and individualized. It was the most thorough and rewarding system I have ever had the opportunity to study under."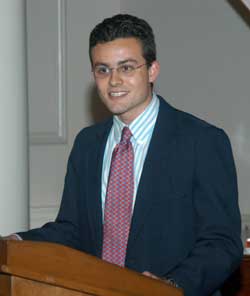 Mathew Anderson '06 of Staunton, VA, spent his junior year in Paris on the Sweet Briar College Program.
"It was the best decision I have made thus far; of the 95 in the program, 10 were men."
"We began with a month in Tours and then moved to Paris, where I lived with a host family and attended the Sorbonne. The Sorbonne is extremely different form Hampden-Sydney – huge classes, little support – a different experience."
"Sweet Briar was great about side trips. We went to Monet's Garden a Giverny and the American Cemetery at Normandy. I spent Christmas in Brussels. All the guys in the program decided to go to Sweden, and we found a 19 Euro plane fare to Stockholm. Several of us took a 16-day spring-break trip to Morocco including riding camels across the Sahara for two days. It was a phenomenal trip, so very different from anything I had ever seen. The skies and colors of Morocco are beyond belief."
"Paris is a gift. It is all the sparkle and all the life you could hope for. Last year was the best year ever."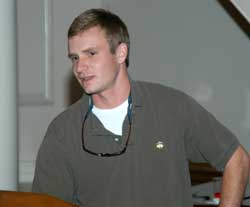 Joseph Yarborough '06, of Golf Shores, AL, spent the spring semester at James Cook University in Cairnes, Australia. He took courses in management, psychology, and aboriginal culture.
"I went with Mike Vassar ('06 of Midlothian, VA). Our study abroad conditions were that it was warm and everybody spoke English, and we found the right place."
"In Australia what you learn above the surface is nothing to what you can learn under the water; diving with a whale is like being with a dinosaur.
We took a 3,000-mile 16-day road trip from Cairnes to Sidney. Up in the rain forests, there are trees that take a hundred years to grow. On the beaches the views are breathtaking. There are gorges with waterfalls that shake the earth. At Barron Bay are the prettiest sunsets you will ever see."
"It was great experience. Anyone who gets a chance to study abound, just go for it."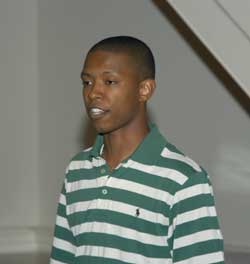 Monti Mercer '06 of Fairfax, VA, took the May Term course in tropical biology in Costa Rica.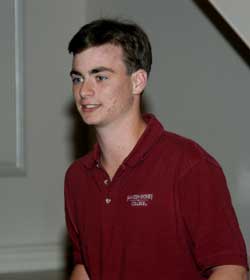 Daniel Gordon '05 of Burke, VA, studied abroad in Grenoble, France, for two months last summer as part of the requirements for his French major.
"Grenoble is not a tourist town and most foreigners there are students. It is well located and I visited Paris, Verdun, Normandy, Dijon, and Monaco."
"It was an experience everyone should have. I hope to return to spend a year."