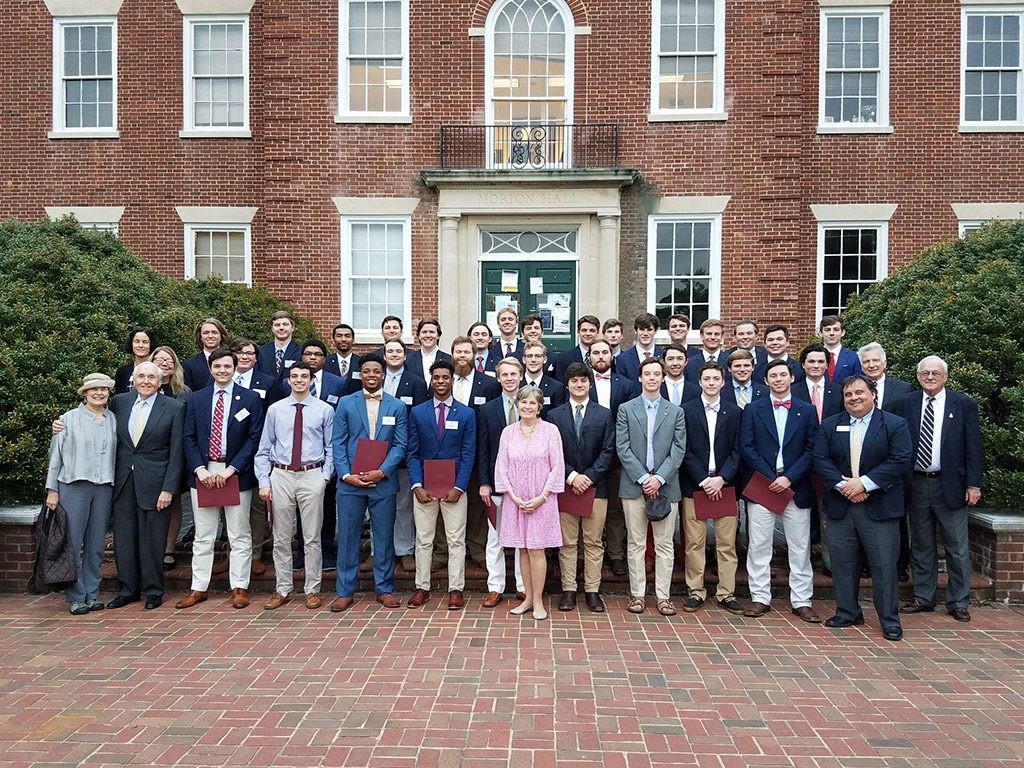 2019 graduates with Mrs. Martin
Director's Note 
As you can tell from this and our other newsletters, we have had a busy and productive year at the Wilson Center. At this time of year, however, our thoughts turn to our 2019 graduates.  We are so proud of the 18 young men who completed requirements for the Military Leadership and National Security Studies and Leadership in the Public Interest programs.  They leave big shoes to fill.  These graduates are "men of character" who will lead "lives of consequence."  Congratulations and best wishes!
Another highlight of the academic year was our inaugural Wilson Fellows cohort.  Forty-seven young men took part in the David Martin Leadership Program, where they learned about themselves and how to lead from where they stand.  From their academic achievement to their extracurricular involvement on campus, these young men did a remarkable job. I am excited to report that our Wilson Fellows first semester GPA was a full .5 higher than the all-freshman average, and their collective GPA was even higher second semester!  In addition, these students also took on leadership roles in clubs and organizations including The Tiger and the Union Philanthropic Literary Society (UPLS); excelled on nearly every one of our athletics teams; were selected to serve as Resident Advisors; and elected by their peers to serve on the Student Court, Student Senate, and College Activities Committee.  Next year they will transition into the Society of '91, a program started by General Wilson and Dean Lewis Drew.  It is humbling to work with such outstanding young men.  Our College is better because of their engagement and our community, commonwealth, and country will be stronger because of their service after they graduate.
In this newsletter, you will read about events and programs, partnerships with top ranked public and Ivy League graduate programs, and record levels of philanthropic support—outstanding accomplishments that should be celebrated because they provide our students with the resources, experiences, and habits needed to lead lives of service.
In all of our endeavors, students remain at the heart of all we do.  Upon his election as President, General Wilson said the following, "the most important person walking the grassy knolls of this campus is the student…he is followed closely, almost in lockstep, by the second most important person, the teacher.  The most important event transpiring on this campus is the colloquy between the student and the teacher.  All else is secondary and supporting."
Please know that you can support that great "colloquy between the student and the teacher" as well as the Center's mission of providing "men of character" the grounded theory and practical experiences needed to live "lives of consequence" by engaging in the following ways:
Thank you for all you do for our students, the Center, and our College.  I look forward to seeing you on campus soon.  Please call (434) 223-6212, write rpemberton@hsc.edu, or visit anytime!
Sincerely,
Ryan
Summer Leadership Adventure Weekend for High School Students: Registration Now Open
Calling all alumni and high school students! Registration for Leadership Adventure Weekend at Hampden-Sydney (July 12-14 or July 19-21) is now open. Read More…
Cornell Partnership: Hampden-Sydney College and the College's Wilson Center for Leadership in the Public Interest have announced a new partnership with the Cornell Institute for Public Affairs (CIPA) at Cornell University.  Read More…
Summer Interns: Wilson Center students continue to have wonderful summer opportunities! Read More…
Wilson Center Events: The 2018-2019 academic year was full with events, lectures, and programs.  Read More…
Giving Day: Giving Day was a wonderful success for the College and Wilson Center!  Read More…
End of Year Banquet: Wilson Center celebrates graduating seniors and winners of the Patrick Henry and James Madison awards. Read More…