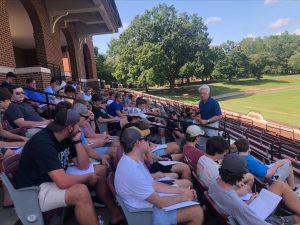 Fellows in year one focus on emotional intelligence and being a good teammate. This fall, first-year fellows participated in the pre-term workshop, heard from President Stimpert, learned about presence and moving audiences from the American Shakespeare Company, spent time with student government executive officers, learned about the facets of emotional intelligence, took the Myers-Briggs Type Indicator test.
Fellows in year two, termed the Society of '91 (named in honor of eight inspiring members of the Hampden-Sydney Class of 1791), focus on developing their understanding of servant leadership. This semester, second-year fellows heard from Bert Bateman '80, participated in small group discussions about positive political leadership and ethics in public life, heard from President Stimpert, and went on an overnight camping trip to Holiday Lake.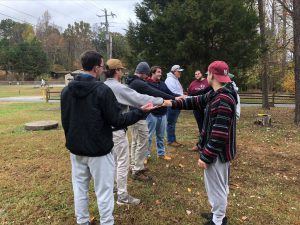 Fellows in year three focus on preparing for life after College. They are paired with alumni mentors and are asked to consider not just what they want to be after graduation but also who they want to be. We endeavor to align their values and actions. This year's third-year Fellows heard from Brandon Randall '04 about being a good mentor and mentee, spent time with Ferguson Career Center Director Stephanie Joynes, heard from Court Vanzant '02 about leadership and integrity, and had a discussion with local faith leaders about supporting Afghan refugees in Southside Virginia.
Fellows in year four focus on serving as captains and big brothers to the younger guys in the program. They put their experience in to action. Fellows in year four also spent time with Brandon Randall '04 this semester. They took the strengths finders test and worked with Michael Wriston as they discovered their gifts. The Fellows also heard from Hugo Rodriquez '88 who asked the Fellows to reflect on their strengths and to find positive ways to interact with others.
---