For three straight years, Dr. Pemberton and the legendary Dr. David Marion have taken a group of students to Washington as part of an experiential learning class. These classes connect theory and practice and allow students to experience the culture of Washington, all while learning directly about leadership, policy, and our federal system from experts.
Washington, D.C., is of great strategic importance to both the College and the Wilson Center for Leadership in the Public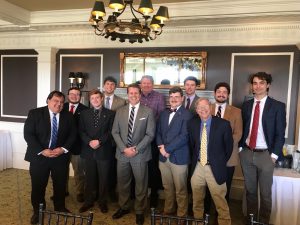 Interest. The fifth largest media market in the United States, the larger Washington area is home to more Hampden-Sydney alumni than any other area in the nation. Ever growing, the area is also home to our federal government and an increasing number of privately-held companies. Understanding the nexus of government, private sector, and nonprofit management is a goal of the class and an ongoing—and increasingly important—conversation that guides the work of the Wilson Center for Leadership in the Public Interest.
Students build a research paper over the semester. They are asked to tackle one federal policy challenge and must identify a specific place in our federal system that addresses that issue. Students are provided theory at the beginning of the class and consider concepts of organizational structure, leadership, organizational culture, issues of federalism, and constitutional expectations in our republic. Students compare and contrast those theories across sectors and industries while in Washington. They consider why a leader in the nonprofit world may interact with employees differently than a leader in finance may do so. They may consider why an intelligence organization would have a different structure than would an organization in another executive branch. Each student is also paired with an alumnus or friend considered an expert in their field who serves as a mentor to the student over the semester. Each mentor provides the student with additional insight into the sector and advice about how the policy solution may be improved.
The investment of these alumni and friends is simply remarkable and differentiates Hampden-Sydney from any other institution of higher education. What an important and impressive investment in our young men.
Here is an overview of the activities of the week:
Weekend:  Students arrived Saturday evening and had an enjoyable evening in Navy Yard near Nationals Stadium. On Sunday morning they visited Little Lights Urban Ministries and heard from founder and Executive Director Steve Park. Steve provided his inspiring testimony and explained how this amazing organization provides caring and holistic support to children and families across southeast Washington, D.C. Thanks to the generosity of Rodney Ruffin '82 of Thompson Hospitality, the group had a delicious lunch at Matchbox. Making sure to provide students with some enjoyable time over spring break, the guys visited the Spy Museum and then attended a Wizards game Sunday night.
Monday: The group was up bright and early and headed to the beautiful offices of Holland and Knight, where we were hosted by Wilson Center Board of Advisors Member Kevin Turner '03. Session one was titled The Complex Relationship of Big Tech and the Federal Government and featured Jason Kello '99, an executive at Amazon, and Kenneth Bradley '05, the associate chief for public engagement at the National Cybersecurity and Infrastructure Security Agency. Session two featured friends Michael Ellis, former General Counsel of the NSA, and John Lenkart, former FBI senior executive. The topic was titled Big Tech and the American Way of Life: An Evolving Relationship. Session three was titled The Many Faces of Global Interaction: Trade, Immigration, Human Rights and National Security. Kevin Turner '03, partner at Holland and Knight and former vice president and general counsel at the U.S. International Development Finance Corporation; Joel Velasco '95 senior vice president, international relations & head of Latin America at UnitedHealth Group; and Hugo Rodriquez '88, senior executive at the U.S. Department of State and nominee to be the next ambassador to Nicaragua were the panelists. Later that afternoon, we moved across town to the law offices of Jones Day for a panel discussion about administrative rule-making and the Supreme Court. Rob Luther '03 served as our host and recruited two of his outstanding colleagues, Brett Shumate and Joe Falvey, to join the discussion. That evening, Ambassador Ed McMullen '86 hosted us at his offices at Adams and Reese. McMullen served as ambassador to both Switzerland and Lichtenstein from 2017 to 2021. He offered some wonderful thoughts on diplomacy, the importance of both political and career appointments, his time at Hampden-Sydney, and general leadership lessons. What a day!
Tuesday: The group again got up early and headed to the Washington Golf and Country Club where we met with Stewart Verdery, head of Monument Advocacy, and Lew Robinson '91, a senior executive at the ODNI and Assistant Director at the National Counterterrorism Center. Thanks so much to Cabell Fooshe '92 for hosting!  We then headed to Reston, where we met with Warren Thompson '81 and Rodney Ruffin '82 at Thompson Hospitality. Both gentlemen currently serve on the College's board of trustees. We were provided with another wonderful lunch, courtesy of Matchbox, and were grateful to hear the story of the creation of Thompson Hospitality. What a fascinating story of hard work, entrepreneurship, overcoming obstacles, creativity, and Hampden-Sydney bonds. That night the group had dinner at Carmine's in Chinatown. Students and mentors had time to talk and deepen relationships. Another special and meaningful day!
Wednesday: The group was up bright and early and headed to the spectacular law offices of Kirkland and Ellis, where we were hosted by Ivan Schlager  '21, and member of the Wilson Center Board of Advisors. Session one was titled The State of the American Military: A Post-9/11 Wars Assessment and featured Col. Anderson Sale '93 who serves as director of operations, U.S. Army Intelligence and Security Command (INSCOM) for the ODNI; Adam Barker '05, staff member, Senate Armed Services Committee; and Jim Forbes '91, senior readiness analyst, Headquarters Department of the Army. A highlight of the trip was a special talk from General David Petreaus, who led forces in both Iraq and Afghanistan and served as head of the CIA. The general called General Sam a giant figure in the world of national security and gave his thoughts about the situation in Ukraine. Before lunch we were provided an update from Congress with Hill staffers Alex Parham '20, Chris Hall '15, and Lucas West '13. After lunch Chris Cooper '93, founder and head of political consulting firm Convergence Targeted Communications, and Tuck Shumack '95, principal at Ogilvy Government Relations, gave us an assessment on the current state of our party politics. Finally Tuck Shumack '95 and Paul Pisano '89, senior VP for industry affairs and general counsel at the National Beer Wholesalers Association, served on a panel titled Hill Politics & the Administrative State: Navigating Federal Institutions on Behalf of Individuals and Associations. That evening the group headed to the Army Navy Country Club, thanks to host Tuck Shumack '95, for a small reception where we heard from Barron Segar '84, president and CEO of the World Food Program USA. His remarks captured the importance of selfless service and were a great conclusion to a meaningful day and week. The week was made possible only through the generous gift of an anonymous donor and the hard work and dedication of so many alumni, parents, and friends. I cannot believe a group of supporters at any other College could provide students with such a week where students were able to engage with leaders and experts in such a close and meaningful manner. Thank you, all!
---