Why I chose H-SC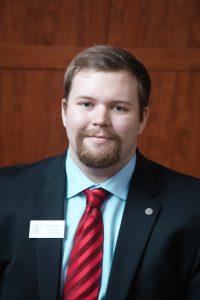 I chose Hampden-Sydney because of the opportunity to grow in and outside of the classroom. The College's academic programs and the commitment to carrying out the mission of forming "good men and good citizens in an atmosphere of sound learning" impressed me.
With what activities have you been most engaged on campus?
While attending Hampden-Sydney, I have been a Wilson Leadership Fellow and a member of the football team. I have also served as an orientation leader, TigerFund analyst, and shift manager at Tiger Rec.
What I have enjoyed most about the Wilson Center?
I have enjoyed hearing and learning from distinguished alumni and guests of the College. These events are always enjoyable, and they have had a positive impact on how I approach leadership.
How has the WLFP helped you grow as a person, student, or leader?
The WLFP has supported my personal growth by teaching me the right way to lead. The program spends a lot of time discussing the leader-follower relationship, specifically the need for leaders to understand their followers. I now approach leadership by first learning about who I will be working with and establishing a healthy leader-follower relationship. Another way the WLFP has helped me grow is through the mentoring program. Beginning in my junior year, I was matched with an alumnus. That relationship has given me additional confidence as I begin my career.
After Hampden-Sydney
After graduation, I plan to start my career in the finance sector.