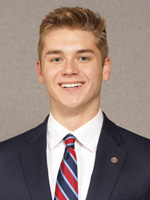 Why did you choose Hampden-Sydney?
The small size really made Hampden-Sydney feel like a home. I had considered a few other colleges, but I knew H-SC was the right choice as soon as I made my first visit to campus. After one year here, I can say that the ability to work closely with professors has proven to be an invaluable advantage.
What activities have you been involved with in on campus?
I am the vice president of the Mentor Program, the secretary of the Environmental Club, and a member of the Pre-Health Society. I am also on the swim team and have been chosen to be the Resident Advisor for the Modern American Leaders living and learning community.
What have you enjoyed most about the Wilson Leadership Fellows Program?
I have really enjoyed the people I have met; from other students to the guests speakers, they have all been positive influences in my life. Moreover, the Wilson Center has helped me develop my own ideas about leadership and has taught me how to be a more effective leader.
How has the Wilson Leadership Fellows Program helped you grow as a person, student, or leader?
Through the various lectures, class presentations, group discussions, and self-reflections, I believe I have grasped a few key ideas that allow me to be a more effective leader. Each of the guests that spoke in the 2019-2020 academic year brought some new insight to the table, and the culmination of their ideas has caused me to grow both as a person and a leader.
What are your plans after H-SC?
Following my graduation, I plan to attend medical school where I hope to further my studies and specialize in anesthesiology.